Is Mary Robinson Bad for the Jews?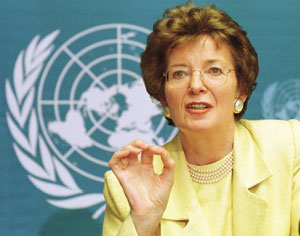 Mary Robinson has had a long and interesting career. As the White House press office noted when explaining Barack Obama's decision to grant her a Presidential Medal of Freedom:
Mary Robinson was the first female President of Ireland (1990 – 1997) and a former United Nations High Commissioner for Human Rights (1997 – 2002), a post that required her to end her presidency four months early. Robinson served as a prominent member of the Irish Senate prior to her election as President. She continues to bring attention to international issues as Honorary President of Oxfam International, and Chairs the Board of Global Alliance for Vaccines and Immunizations (GAVI Alliance). Since 2002 she has been President of Realizing Rights: The Ethical Globalization Initiative, based in New York, which is an organization she founded to make human rights the compass which charts a course for globalization that is fair, just and benefits all.
Naturally, Abe Foxman sees an insidious plot against the Jewish people:
Abraham H. Foxman, national director of the Anti-Defamation League, today issued a statement saying that Robinson has "anti-Israel bias" and calling the decision to bestow America's highest civilian honor upon Robinson as an agent of change "ill-advised."
James Besser explains the case, such as it is, against Robinson. You see, back in 2001:
Robinson didn't support the anti-Semitic outbursts at Durban, but a credible case can be made that she didn't do enough to prevent them – or speak up loudly enough after the debacle.
I think it takes a pretty serious case of narcissism to reach the conclusion that this bill of particulars ought to outweigh a person's entire career.
My sense is that what's really going on here is the same as what's happening with pro-Israel groups' years-long campaign against Human Rights Watch. It's simply not possible to do a credible job of international human rights monitoring without criticizing Israeli behavior now and again. Exercising sovereign authority over the lives of millions of stateless persons is a human rights fiasco waiting to happen. But a lot of Jewish organizations in the United States seem to take the view that because Israel's human rights record is better than, say, Sudan's (and it sure is better) that any criticism of Israel amounts to anti-Israel bias.