What's Going on in the House?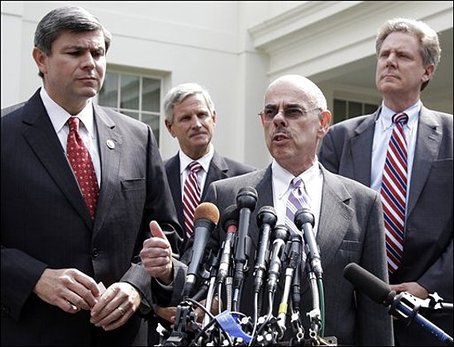 Now that Henry Waxman has struck a deal with the Blue Dogs and the Blue Dogs have struck a deal with the liberals, health-care reform looks like it's finally leaving Energy and Commerce. But it's worth taking a moment to explain what's been going on over the past few days.
Much of this fight was a byproduct of the peculiarities of the committee system. Health-care reform, in theory, should go through three separate committees: Energy and Commerce, Ways and Means, and Education and Labor. Education and Labor is quite liberal. Ways and Means a bit less so. And Energy and Commerce has an uncommonly high number of Blue Dogs. So that's where health-care reform got bottled up.
Ways and Means and Education and Labor both passed their bills easily. The priority, though, was to get health-care reform out of Energy and Commerce. That's true for a couple of reasons. One of them is that so long as the bill sits in that committee, it's vulnerable to all manner of poisonous amendments proposed by Republican members and designed to put Blue Dogs in uncomfortable positions. Henry Waxman spent a lot of time beating back abortion-related amendments last night, for instance.
The House floor, by contrast, is a friendlier and more flexible place. The large and liberal Democrat majority can do a lot more to pass amendments to satisfy key legislators while blocking those meant to harm the bill. A Blue Dog worried around rural hospitals, for instance, can potentially be satisfied with an amendment protecting rural hospitals, rather than a major change to the public plan. Indeed, my sense from talking to various sources on the Hill is that everyone thinks this stuff can be worked out on the floor. But the peculiarly conservative composition of Energy and Commerce makes it a fraught place to conduct your negotiations and make your concessions.
All that said, unlike the Senate, the House has cleared hurdle after hurdle. The Blue Dogs struck a deal with Waxman. And now the liberals and the Blue Dogs have struck a deal with each other. There's a lot of horse-trading left to be done on the floor. But there's reason for confidence that whatever disputes arise, the House leadership can resolve them. The Senate is trickier.
Photo credit: AP Photo/Alex Brandon.