Why Democrats Will, at the End of the Day, Pass Health-Care Reform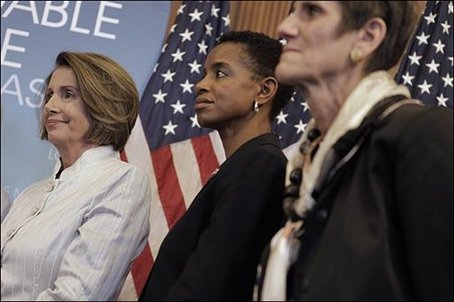 "Democrats should, but almost certainly won't, listen to Jon Chait," writes Matt Yglesias. He's referring to this post Chait wrote on the way Americans will judge health-care reform:
People do not pay close attention to details...[I]f health care reform passes...it will have a Rose Garden ceremony, lots of commentary about the historical import, liberal celebrations and conservative apoplexy. If it fails, then the plan will be described as a "failure" -- a designation intended to describe the political prospects but which is certain to bleed into the public's estimation of the plan's substantive merits -- and produce endless commentary about liberal overreach, all of which will make people more prone to believe that the plan was a disaster.
Democrats simply have to accept that health care reform is going to be polling badly when they vote on it. There's no mechanism in the current media configuration that would allow them to convey the details of the plan in a positive way without getting overrun by negative process stories. It's just not possible. What they have to focus on is which alternative is likely to make them better off: reform passing or reform failing. It's an easy call, which is why I think reform will pass.
First, a word on the bad "process stories" afflicting health-care reform right now: This sort of thing is inevitable. The final stage of a legislative fight is a bit confusing: It is very hard to tell a legislator who is voting against a bill apart from a legislator who is trying to maximize his influence over a bill. The two of them do the same thing, after all: Express concerns, point out a couple areas of disagreement, admit to overall ambivalence. But one of them doesn't want to vote for the bill and the other is positioning himself to vote for the bill. Reporters, however, can't read minds, so they take the statements at face value. That makes things look a lot grimmer than they are. As they say, it always looks darkest before the deal.
But there will be a deal. This is, in part, for the reasons Jon outlines. Importantly, however, the argument in his post is not some brilliant insight point he thought up during a particularly productive hour on the treadmill. It's just what happens. With all major pieces of legislation. And everyone knows it. Medicare Part D, for instance, barely survived the legislative process. It had a one-vote margin in the House of Representatives. Republicans almost broke the Congress securing the bill's passage. If it had failed, the ethics violations and angry Republicans and huge price tag would have launched a thousand editorials explaining the bill's failures and the deep inadequacies they demonstrated in the administration's policy process. But the bill didn't fail. Now it's law, and pretty popular law, at that.
Democrats know full well that there are two plausible outcomes to the health-care reform process. Health-care reform will fail, dealing a huge blow to the Democratic Party and giving Republicans tremendous momentum as we enter the 2010 campaign season. Or health-care reform will pass, and Democrats will criss-cross the country touting the largest legislative accomplishment in decades. Republicans may still attack them on the plan. But attacking a historic legislative success is a whole lot harder than attacking a historic legislative failure. Republicans know that, which is why they want to kill the bill. Democrats know it too, which is why they won't let them.
Photo credit: AP Photo/Evan Vucci.