When Paint Isn't Enough
I took it as a great sign for Gabe Klein's relatively new tenure as head of DC's Department of Transportation when I saw that the street was being repainted at the weird intersection of 5th Street, I Street, and Massachusetts Avenue near where I live. Basically the idea was to give a bit of the street back to pedestrians in this growing, walkable urban neighborhood thus siding with the interests of most DC commuters and considerations of public health and environmental sustainability: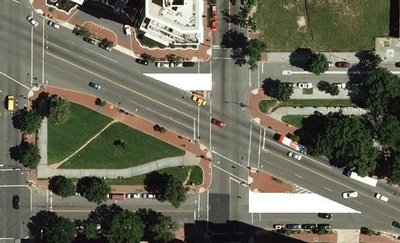 Unfortunately, as our intrepid neighborhood blogger points out, the main response of motorists to the change has been to keep driving across the new striped road surface even though I'm pretty sure every adult Americans understands that those stripes mean "don't drive here."
Fortunately, there is a short-term solution to this problem. So-called "quick curbs" like the one recently installed to improve pedestrian safety at the "death star" intersection at 15th Street, Florida Avenue, and W Street. Quick curbing around our intersection could take DDOT's reasonable plan and give it some efficacy.