The Cost of the Washington Flyer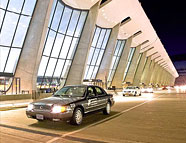 (Metropolitan Washington Airports Authority photo)
For reasons that have never been clear to me, if you want to take a cab from "Washington" (actually about seventeen million miles from the city) Dulles International Airport you not only need to pay an exorbitant fare, you need to specifically pay the fare to a Washington Flyer Taxi. You can't just take a regular taxi that charges a special Dulles fare. It needs to be a specific kind of taxi. As Steve Offutt observes this has weird and undesirable consequences:
According to the Metropolitan Washington Airports Authority, Washington Flyer taxis provide 2,500 to 3,000 rides per day from the airport, but only provide 300 to 350 rides to the airport. That means more than 85% of taxis return empty. It's probably a fair assumption that a similar number of people arrive at the airport by taxi as leave, so that means that more than 2,000 local cabs drop passengers at Dulles and then drive back empty. [...]
The current situation benefits virtually no one, with the possible exception of the cab company owners, since monopolies are always a good deal for the businesses that have them. Eliminating the Washington Flyer taxi service will not change the fares paid by airport patrons: the same number of people will still be flying in and out of Dulles. Drivers, though, will save millions of dollars and thousands of hours of wasted time. It's likely this will reduce the need for as many drivers and taxis, but taxicab drivers as a whole will collect just as much in fares while saving millions of dollars on operating costs. Reducing this waste will also reduce the pressure to raise fares on customers while introducing competition may result in better service, too.
So, yeah, this is dumb. When the current contract expires they should change things. This is hardly the most pressing issue of social justice in America (the fare is so expensive that I assume the only people taking these cabs are people able to expense the trip to an employer or client) but it's good to get the little public policy issues right as well as the big ones. Meanwhile, one of these days the Dulles Metro extension will get built.