The Idea That Could Save Health-Care Reform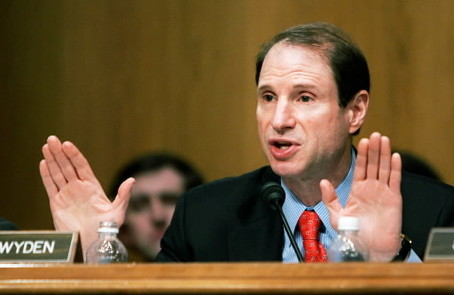 I don't want to overstate my case. I am not suggesting that Sen. Ron Wyden's Free Choice Act is the difference between a health-care reform bill passing the Senate and dying in committee. But I am arguing that it might be the difference between a bill that delivers on its promise of reforming the health-care system and a bill that merely expands health insurance coverage.
There are two major problems with the proposals being considered in Congress. The first is that they do not do enough to cut costs, because they does not do enough to change the fundamental nature of the employer-based health-care system. Earlier this morning, Congressional Budget Office Director Doug Elmendorf told the Senate Finance Committee that health-care reform will not save us money. If the problem is that our health-care system is too expensive, and reform does not change the structure of our health-care system, then it is unlikely to mitigate the expense. The flip side of trying to avoid changing what people have is that you don't change what's not working.
The second is that the bill does not offer obvious benefits to an insured worker. You can argue that it changes the system around them: There are subsidies if they lose their job and regulations to protect them from the excesses of private insurers. But though the health-care system might be different, it will not, for most people, feel different. And that has made it hard to explain to people why this is something they should pay for. You can tell the insured worker what he gets if his circumstances change. You cannot tell him what he gets if his circumstances do not change.
Enter Wyden. The Free Choice Act is not a health-care-reform bill. It is best understood as a reform of the health-care-reform bill. In particular, it reforms the nature of the Health Insurance Exchange. Under the bills being considered right now, the exchange will be limited to the uninsured, the self-employed and small businesses. Maybe it will be expanded over time. Maybe not. In addition, it is barricaded by what's called a "firewall." The firewall essentially bars individuals from entering the exchange so long as their employers offer them a basic level of health-care coverage.
The Free Choice Act starts by setting the rules for the exchange: Within five years the exchange is open to all employers. More importantly, it's open to all people. The firewall is extinguished. But as the late, great, Billy Mays would say, that's not all! The key component of the Free Choice Act is called "cash-out." Under the Free Choice Act, if I decide that I don't like any of the health-care coverage options being offered by my employer and would prefer to choose from the many options being offered on the Health Insurance Exchange, my employer has to give me a voucher that covers 65 to 70 percent of the cost of the lowest level of exchange plan. (That is the average portion that an employer pays of his employee's health insurance premiums.) I can take that voucher and, along with whatever money I want to throw in, choose a plan on the exchange.
This does a couple of things. First, it changes the health-care system for the currently insured. It doesn't take what they have. But it gives them a choice. If the political yin of health-care reform is that you can keep what you have if you like it, the policy yang should be that you can choose something different if you don't. The Free Choice Act gives the insured something concrete: autonomy. If they don't like what they have, they are assured options. In 1994, Bill Clinton's plan was defeated because people believed it would restrict choice. Given the apparent power of the objection, it makes some sense to try to sell health-care reform atop the concrete promise that it will increase choice.
Second, it gives people an incentive to choose cost-effective plans. If your employer is paying 70 percent of your $10,000 health insurance premium, and you find a $9,000 plan on the Exchange -- maybe it's an HMO rather than a PPO -- you pocket $1,000. Currently, since I pay only 30 percent of my health-care premiums, making the same choice within the HMO and PPO offerings that The Washington Post gives me would only net me $333 dollars. Wyden's plan would put 300 percent as much money in my pocket. That changes behavior. And even the CBO thinks so. This is one of the main reasons the Congressional Budget Office scored Wyden's Healthy Americans Act -- which had a similar provision -- as saving, rather than costing, money.
Third, it begins to build a viable alternative to the employer-based health-care system. Experts think that the exchange will need at least 20 million participants to really start seeing advantages of scale. This will ensure it has much more than that. And if the exchange works? If direct competition between insurers lowers costs and increases quality, if standardized billing and administrative efficiencies save money, if the massive pool of customers helps insurers bargain for discounts with providers, then the exchange will become a progressively better deal, and more people will choose -- there's that word again -- to enter it. And if more people choose to enter it, then that cycle happens again, more people enter, and so forth. Soon, you've built the system we want rather than the one we have.
That is not to say there are no problems with this idea. The primary one is adverse selection: What's to stop all of a company's young employees from buying their way out and leaving their employer with bad health risks and high premiums? According to Wyden's office, risk adjustment. And they say they'll risk adjust back to the employer level, potentially. It's hard for me to imagine how that would work. But it's also hard for me to imagine a flood of young people who don't care much about having good health insurance going through the process of contacting HR, attaining the voucher, going to the exchange, comparing plans, and so forth.
And the potential upside of this idea is huge: It gives the currently insured a bevy of new choices, creates real incentives for cost control, and begins the hard, and necessary, work of building a better health-care system. Wyden's Free Choice Act will not decide whether a bill called "health-care reform" passes the United States Congress. But it might decide whether that bill actually is health-care reform.
For more: Read Jon Cohn's write-up of the Free Choice Act, or my interview with Ron Wyden.
Photo by Dennis Brack/Bloomberg News