The Coincidences of Inequality
I really enjoyed Will Wilkinson's paper on inequality. I consider myself as something of a connoisseur of think tank reports -- it's cheaper than wine -- and this one's an uncommonly good read. But it's also pretty unsatisfying.
One of Will's first arguments is that income inequality is not a good way to think about the issue. The real key is consumption inequality. It's not, in other words, how much money people make, but how much stuff they buy. And "the weight of the evidence shows that the run-up in consumption inequality has been considerably less dramatic than the rise in income inequality."
You'd think the fact that our ears are still ringing from the deafening "pop!" of the consumption bubble would, in some way, impact this analysis. But it doesn't. Nor does the word "debt." But that's how many households have kept their consumption high amid widespread wage stagnation. Indeed, take a look at this chart tracking the rise in inequality: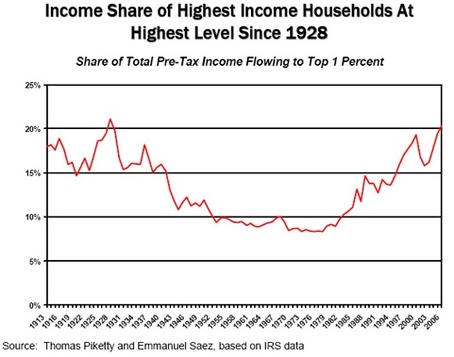 Now take a look at this chart tracking the rise in household debt: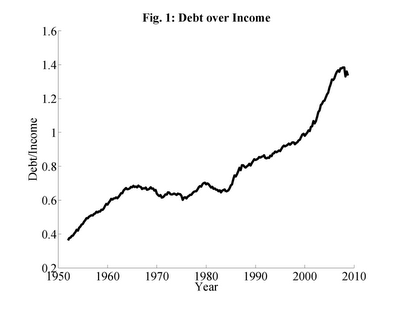 The acceleration in inequality and the acceleration in debt mirror each other pretty closely. Both accelerate in the early-80s. Both flatten a bit in the 90s. Both kick back into gear in the early-Oughts. (The big diversion is the pop of the tech bubble in 2001, but it's obvious why that would temporarily bring down inequality without easing the pressures that were causing middle-class families to borrow). That would be quite a coincidence, if indeed the two were unrelated. But I rather doubt it.
My view of inequality is that it's primarily a symptom of a problem rather than a problem in itself. It has a tendency, for instance, to accompany wage stagnation among the middle class. It also has a tendency to predict massive economic crises. The first graph I posted tracks the income share of the top percentile. That chart, released in 2008 by the Center for Budget and Policy Priorities, trumpeted the finding that inequality was at its highest level since 1928. And indeed it was. We all know what happened in 1929, of course. And at this point, we also know what happened in 2008.
Now, it might be a coincidence that the two mega-crashes of the last 100 years were preceded by unparalleled concentrations of domestic wealth. But that seems like a pretty big coincidence.