What's the Stimulus Doing?
Keeping in mind that a lot of the money hasn't been spent yet, we can say one thing the stimulus is doing: closing state budget deficits. The Center for Budget and Policy Priorities says that the $140 billion or so dedicated to state spending "is enough to close, on average, roughly 30-40 percent of state budget shortfalls." You want a graph?
You can't handle a graph.
Okay, maybe you can: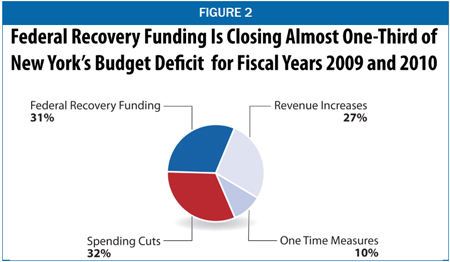 As Matthew Yglesias writes, this sort of thing is important. "Certainly conservatives don't seem like the kind of folks who'd deny that steep tax hikes amidst a recession will make things [worse]. But tax hikes are, obviously, one way to plug a hole in state budgets. And sharp state spending cuts have the same pro-cyclical impact." Beyond that, state services are important in a countercyclical sense: Many more children need health-care coverage when adult unemployment hits double digits. If states have to pull back on S-CHIP as the recession worsens, it's real trouble.
It's also worth saying that this money will help preserve a lot of jobs at the state level. This was an element of the plan that never got enough attention for my tastes: Preserving jobs is really important. More important, arguably, than creating new ones. First, it's cheaper to preserve a job than to create one. Second, it's more effective. The evidence we have suggests that a worker who is laid off from one job frequently finds that his or her next position is at a lower wage, with less responsibility. And the worker is frequently not as productive, at least for a while, because the learning curve at a new position can be steep.
Now, the full stimulus was almost $800 billion, and this is only $140 billion. You can't judge the effectiveness of the whole simply from this part. But this is a key part. And if we're looking to do a second stimulus, a significant infusion of aid to the states would be a good place to start. It would be good policy right now to basically erase state budget shortfalls, and even allow states to increase the service spending, given that it's more necessary than ever.