Maybe Allen Iverson Just Isn't Very Good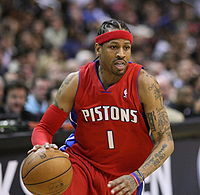 Teams keep getting better when the Answer leaves (wikimedia)
Sports Illustrated's Steve Aschburner wonders why we don't see Allen Iverson signing on for a supporting role on a contending team:
Allen Iverson ought to be next. The '01 MVP, nine-time All-Star and four-time scoring leader has the individual résumé for such a move. He presumably has the financial wherewithal to take the requisite pay cut after 13 seasons of superstar wages, including the $76.7 million extension he landed in '03 and the "lifetime" endorsement deal (whatever that means) he signed with Reebok in '01. He even has the game for it — think instant offense, sixth man, the sort of player a coach could turn loose off the bench to mess with the opponents' second unit almost at will. At 34, Iverson still is quick enough, slippery enough and crafty enough to change games.
He concludes that "What he doesn't have, though, is the attitude for it."
Alternatively, maybe after trading Iverson for Andre Miller made Philadelphia better and then trading Iverson for Chauncey Billups made Denver better, teams are starting to figure out what some people have been saying for a while: Allen Iverson isn't a very good basketball player. He scores a lot because he shoots a lot, but he's turnover-prone and subpar at rebounding. And the fact that in order for Iverson to be effective he needs to be paired with a point guard who's big and strong enough to guard opposing two guards is a major downside.