Is Bing Better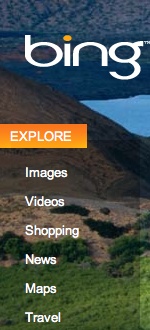 David Pogue says there's more to life than Google and folks should consider Bing, Microsoft's competing product:
At first, Bing is pretty much Google. Oh, there's a big National Geographic-y photo on the home page instead of plain white, but otherwise it's the same deal: a Search box; a menu that offers to complete what you're typing; and inconspicuous links to Images, Videos, News, Shopping and Maps.
Once you hit Enter, however, you can't help noticing Bing's more concerted effort to get you answers faster. To minimize the clicking, the hunting, the dead ends.
I dunno . . . the last really tough Googling I did was an effort to turn up a good graphic showing Soviet/Russian life expectancy trends and Bing was way worse on that score.