Sarah Palin in Charts
For all the energy expended on vice-presidential picks, the overwhelming bulk of the data we have suggests that they just don't matter. They're interesting, but fundamentally unimportant. But my friend Emily Thorson -- whose day job is as a political science graduate student at the University of Pennsylvania -- conducted some research suggesting that Sarah Palin was the exception to this usually ironclad rule. As with most good things in life, there are charts. Three of them, to be exact.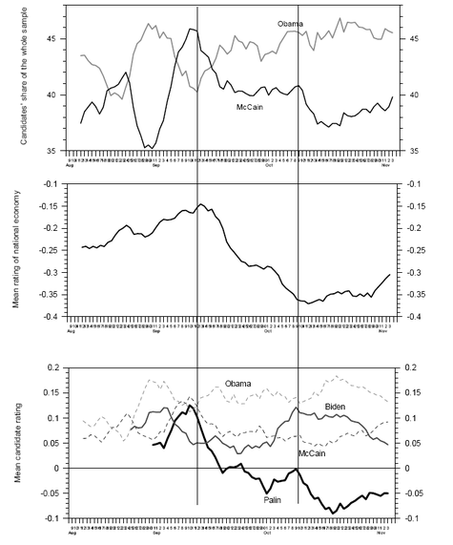 The first graph is simple enough: It's the poll standing of the two candidates. The dark vertical lines show moments when Sen. John McCain's numbers dropped precipitously.
Graph number two shows assessments of the economy. The voters were pessimistic and became more so as the campaign wore on. But the line doesn't correspond to McCain's falls.
The third graph shows the average favorability toward the presidential and vice-presidential candidates. Obama and Biden, you'll notice, seem virtually independent of each other. But McCain's drops are almost entirely predicted by Palin's much longer falls. It seems that every time Palin lost respect among voters, a certain portion of those voters turned against McCain, too.
Thorson, along with her co-author Richard Johnston, profess themselves baffled. There's no precedent for this. They conclude:
Judgment on her was incontestably important. The correspondence between dynamics in her ratings and dynamics in McCain vote intentions is astonishingly exact. Her marginal impact in vote-intention estimation models dwarfs that for any Vice-Presidential we are aware of, certainly for her predecessors in 2000 and 2004. And the range traversed by her favorability ratings is truly impressive. But why? We are unaware of any theory that opens the door to serious impact from the bottom half of the ticket.
I'd sort of like to see a graph of John McCain's approval ratings last week and next week. It wouldn't be at all shocking if Palin's decision to walk out in the middle of her gubernatorial term reminded voters of their anger at McCain for impulsively placing her so near to the presidency.