CBO Gives Us the Key to Health-Care Reform: The Employer Mandate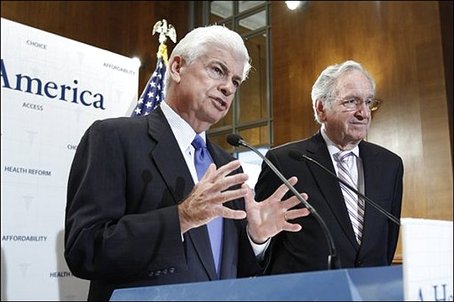 The big news of the morning is a new version of the Senate HELP Committee's health-care reform bill that seems to have everyone confused. The short version is this: CBO estimates that by 2019 the bill will cover 21 million people at a cost of $597 billion. But -- and this is important -- the HELP Committee's bill doesn't include the Medicaid expansion, because Medicaid is under the sole jurisdiction of the Finance Committee. But if Medicaid is expanded to 150 percent, it will cover an additional 20 million at a cost of about $1 trillion. Add in the savings that Finance is expected to get from reforming Medicare and you're looking at a bill that will cost $1 trillion to $1.3 trillion and cover 42 million people (which would mean 97 percent of the legal population in 2019 would have health insurance) by 2019.
The importance of this set of numbers can be understood only in terms of the catastrophe that was the last set of numbers. On June 15, the Congressional Budget Office scored an incomplete version of this bill. The office estimated that it would cost $1 trillion over 10 years and cover 16 million people. It would've cost, in other words, 70 percent more and covered 20 percent fewer people. The big question, then, is what accounts for the change? And luckily, there's a simple answer: the employer mandate.
The June 15th proposal didn't include an employer mandate. And without one, the news was grim: Employers would drop coverage for 15 million employees and send them to the Health Insurance Exchange where they would need government subsidies to afford health insurance. That meant costs exploded and coverage contracted. Health reform looked like a bum deal.
But oh, what a difference a mandate makes: The new version of the HELP bill includes an employer mandate for firms with more than 25 workers. Every full-time worker who isn't given health-care coverage triggers a penalty of $750. Every part-time employee not given coverage costs $375. Doesn't seem like very much, does it? But it's enough. In Massachusetts, the employer mandate has been a success with a piddling $295 penalty. Indeed, the evidence we have suggests that the small penalty creates a massive change in behavior.
And you see the result in CBO's latest score. The June 15 report estimated that 15 million Americans would lose their employer-based coverage under HELP's bill. Today's report estimates that a mere 150,000 will lose their coverage. That's nothing. And it means that a lot more Americans end up insured and the government spends a lot less in subsidies.
I'll have much more on other provisions of the bill later. But the overarching lesson of these CBO reports is simple: You can't do health-care reform -- at least not this kind of health-care reform -- without an employer mandate.
For more: See Jon Cohn's guide for the perplexed.
Photo credit: AP Photo/Harry Hamburg.