Does Medicare Pay Below "Cost?" (Wonky!)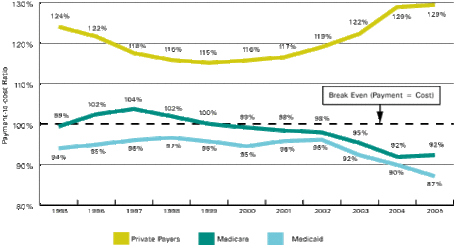 Over at Movin' Meat, Shadowfax has a useful reply to my post on Medicare's method of payment. In particular, he makes the important point that Medicare overpays many specialists and underpays many primary care providers. Agreed. In fact, one of the important and quiet wrinkles of health reform will be how it redresses that imbalance. If you want an affordable health-care system, you can't have your largest insurer tilting the playing field toward specialty care.
But he ends his post the wrong way. "Yes, Ezra," he says. "Medicare does work by dictat." But no! It doesn't! Hospitals and doctors are not forced to accept Medicare's rates by Medicare. (It is true, as Shadowfax says, that many hospitals choose to contract with Medicare and thus the doctors who practice at hospitals have to do so as well. But that's a rather different situation.). There may be a lot of reasons a doctor ends up working with Medicare, just as there are many reasons a supplier ends up working with Wal-Mart. You can argue that they're good reasons or bad reasons, and that policy should or should not change them. But the reasons are not that the law says they have to accept Medicare patients. And that's the argument I'm addressing here.
I also want to say a word on this idea that Medicare pays hospitals "below cost." You can see it clearly in the Blue Cross/Blue Shield slide that mbp3 contributed in comments. "This would seem to be at odds with your post," he/she wrote. The graph is very simple, as you can see. There's a dotted line marked "cost." Medicare is below it. Blue Cross Blue Shield is above it. But the argument here boils down to a very simple question: What is "cost?"On March 17th, Glenn Hackbarth, the chairman of MedPAC, testified before the House Ways and Means Committee on this very issue. Hospitals, Hackbarth argued, are inefficient. Their costs are too high. And this was backed up in the data. "MedPAC analysis has identified a set of low-cost hospitals that consistently out-perform other hospitals on a series of quality measures, including mortality and readmissions," Hackbarth explained. "Among this set of hospitals, we found that Medicare payments on average roughly equaled the hospitals' costs." In less "efficient" hospitals, Medicare's payments were below costs. You can see this in the following table: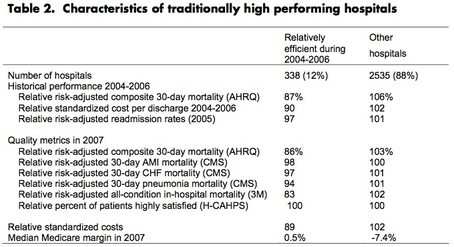 Among the major differences between "efficient" and "non-efficient" hospitals was that the less-efficient hospitals were not under financial pressure: They made a lot more money from other sources. As such, they spent a lot more money on things like capital expansion. As example, compare the amount a young journalist spends to the amount a young investment banker spends. The banker requires more income to break even on that lifestyle. His "cost" is higher. But he doesn't need that lifestyle. He doesn't need that "cost." And if that banker is being paid on taxpayer dollars, I don't want him to have that lifestyle. I want him to have what he needs, rather than what he wants. Because I'm paying for it.
And so too with Medicare payments. Indeed, what MedPAC found was that hospitals under "financial pressure" -- hospitals that made less money, in other words -- managed to control their "cost" better. Medicare's payments sufficed for them. And their quality outcomes weren't any worse.
Put another way, the question is simple enough: Do you think hospitals are efficient? My read of the evidence is that they are not. "Cost" is too high. I think we need to cut costs. I think that the health-care system needs to spend less money than it currently spends. Another way of saying that is I want the system to begin paying below projected "cost." That, after all, is how you save money.
My read of the data is that there's sufficient room to do that without harming quality. The fact that the vast majority of hospitals continue to accept Medicare patients proves that, I think. Medicare's rates aren't where they'd like them to be. But it's still worthwhile for them to do business with Medicare. That suggests there's significant space between where hospitals are today and where they could be in a more efficient system.
That's not true for everyone, of course. As Hackbarth admits, Medicare underpays primary care providers, and it needs to redress that balance. And Medicare itself does a lot to increase costs across the system (in particular, it's fee-for-service payments give doctors incentive to increase volume). But in the aggregate, I think it's a feature, not a bug, that Medicare's payment rates are pushing hospitals to close that cost gap.
For people who want to dig deeper on this, Hackbarth's testimony is here.