Do We Need the Agricultural Committees?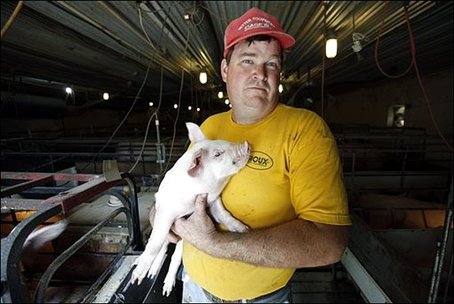 Over at the Progressive Farmer, Chris Clayton argues that, contrary to my contention earlier this week, getting rid of the agricultural committees is a bad idea. He makes some good points. But ultimately, I'm unconvinced. In fact, I fear I'm becoming ever more anti-Ag Committee.
Let's start at the beginning. Clayton is right that I overstated part of my case. The agricultural industry is not alone in having a committee solely devoted to its interests. The House Financial Services Committee is solely devoted to the financial sector. The agricultural industry is rare in its ability to command a House and Senate committee. But not necessarily alone. Fair enough.
The problem with the agricultural committees, however, can be summed up in a single question: Why would you, as a young member of Congress, choose to sit on them? Everyone I have posed this question to -- and that includes members of Congress -- has given me the same answer: You are from a district or state that is reliant on the agricultural industry and you want to serve your constituents to ensure your reelection (very few members are motivated by a purely ideological affection for handouts to Big Ag). "Serve your constituents," in this context, means something pretty close to "secure large taxpayer subsidies for their products." Put differently, it means "rip off the rest of the country."
And that, of course, is exactly what we've done. Between 1995 and 2006, we've spent $177.6 billion subsidizing agriculture. About $50 billion of that has gone to corn (is it any surprise that the Senate Agricultural Committee is chaired by an Iowan?). Nor is this a progressive scheme: The top 10 percent of subsidy recipients averaged $36,000 a year in government money. The bottom 80 percent got less than $800.
This is not, it should be said, a slap at the fine lawmakers on the Agricultural Committee. Congress was constructed to be parochial. Tom Harkin, who chairs the Senate Agricultural Committee, is an excellent and dedicated legislator with many good bills to his name who also happens to hail from a state that's hugely dependent on corn exports and is thus duty-bound to represent their interests. Corn is Iowa's second-largest export (behind tractors). It is not America's second-largest export.
In this respect, I abide by a simple maxim: Don't hate the players. Hate the game. And it's the game that needs to change. Parochial interests often conflict with the national interest. For that reason (among others), Congress was designed to be modified when the current rules ceased working well. New committees have emerged over time and old ones have dissolved. Agriculture deserved its own committee when it represented 80 percent of American exports. But it's no longer in the top 10, and it still has its own committee. The question is whether that state of affairs continues to make sense.
My contention, then, is simple: It would be better if the committee that ultimately decided agricultural policy had a more diverse membership. If the Agricultural Committee became, say, a subcommittee of the Commerce Committee, then the final bill would have to travel through a committee rather less beholden to the interests of agricultural producers. But wait, you say, the Agriculture Committee does more than simply provide subsidies for large producers. "The Ag Committees and USDA are tasked with managing the nation's largest social aid program," writes Clayton, "food aid, both domestic and international." I'm not sure I agree that food aid is our largest social aid program (Is Medicaid not social aid anymore? Why not?), but in any case, the Agricultural Committee should not be allowed to manage food aid.
It's not as if this is a secret play: The Agricultural Committee uses food aid programs to win support for farm bill. As Elizabeth Becker has argued, "that is the strategic beauty of the farm bill. While it is written in the Agriculture Committees -- where the 30 farm districts that receive two-thirds of the subsidies are well represented -- the bill wins support from the overwhelmingly urban and suburban Congress by virtue of its nutrition section, which authorizes the food stamp program."
Nor is that the only problem with running food aid through the Agricultural Committee. As you might imagine, the agricultural producers don't look at these programs and see a good-hearted attempt to help feed the poor. They see new markets. Take the WIC program, shorthand for the Special Supplemental Nutrition Program for Women, Infants, and Children. It's a huge program that serves half of all infants, a quarter of children between the ages of 1 and 4, and many of their mothers.
You'd think that we'd want food aid to these populations to be as healthful and fresh as possible. Instead, it's traditionally been a dumping ground for the dairy industry. In 2007, the program was finally updated to reduce the dairy content and include -- for the first time! -- substantial portions of fruits, vegetables and some whole grains.
Put differently, WIC shouldn't be under the jurisdiction of the committee responsible for helping dairy companies make a profit. it should be under the jurisdiction of the committee responsible for helping to keep Americans healthy: the Health, Education, Labor, and Pensions Committee.
You also hear the argument that food is different than other products and thus requires a separate committee. But though I've heard that assertion, I've never read an argument for why that might be the case, nor has anyone convinced me that a standalone committee is making our food system better. Clayton, for instance, says that "food is a unique industry. Everybody eats, which is why those aggies recommended cutting off Klein's food supply. Given that everybody eats, or should eat, agriculture is critical to the nation like few other industries. Are dollar stores, or poetry, consumer electronics on par with the ability to deliver meat from Kansas to Washington, D.C.? Or lettuce from California to New York?"
But what does that mean, exactly? Merits of cutting off my food supply aside, the consumer electronics industry is actually pretty good at trucking TVs from Kansas to D.C. In fact, some of them make a rather longer journey. And they do it without a Committee on Consumer Electronics.
You also occasionally get the argument that the Agricultural Committee is really the Rural Committee in disguise. "Where is the rural affairs committee?" Asks Clayton. "Oh, it dovetails into agriculture because everything agriculture is rural and everything rural is agriculture."
I'm not sure I buy that, but there are two points worth making. The first is that the United States Senate is America's "Rural Affairs Committee." That's why California has as many senators as Wyoming. But putting that aside, I'm open to hearing the argument that we need a standalone Rural Affairs Committee. But I'm increasingly convinced that we don't need is a standalone Agricultural Committee.
All that said, a couple friends have told me through the grapevine that my last post on this subject engendered some anger among actual staffers on the Agricultural Committees. I'm open to hearing the counterarguments here. If you think the world is a better place because we have freestanding agricultural committees, the e-mail is kleine at washpost dot com.
Photo credit: AP Photo/Charlie Neibergall.