Did Paul Krugman Cause the Financial Crisis?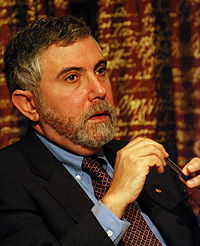 Is Paul Krugman history's greatest monster? (Wikimedia)
The man himself alludes to this, but both Arnold Kling and Megan McArdle seem to think that Paul Krugman should feel deeply embarrassed to have written the following in August 2002:
The basic point is that the recession of 2001 wasn't a typical postwar slump, brought on when an inflation-fighting Fed raises interest rates and easily ended by a snapback in housing and consumer spending when the Fed brings rates back down again. This was a prewar-style recession, a morning after brought on by irrational exuberance. To fight this recession the Fed needs more than a snapback; it needs soaring household spending to offset moribund business investment. And to do that, as Paul McCulley of Pimco put it, Alan Greenspan needs to create a housing bubble to replace the Nasdaq bubble.
If you read the read the entire column, Krugman was actually expressing skepticism that the Fed's policies would have this result. He was saying that people were understating the odds of a "double dip" recession. But he didn't say a double dip recession was inevitable. He said that if a double dip recession were to be avoided, the most likely mechanism would be the inflation of a housing bubble. As it happens, we didn't get a double dip recession. Instead, we got soaring household spending driven by a housing bubble that replaced the NASDAQ bubble. The column, in other words, was completely correct. And it's not as if Krugman never revisited the housing the bubble question between 2002 and the fall of 2008. It was precisely because he recognized, as early as 2002, that policy was aimed at producing a new round of bubble-led growth that he was able to see before most that there were major bubble-related risks to the economy.