Geithner's Plan Is Dead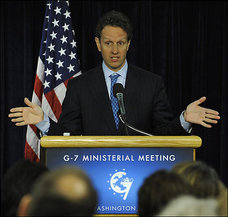 The toxic assets portion of Tim Geithner's Public Private Investment Program looks to be officially dead:
The Federal Deposit Insurance Corp. indefinitely postponed a central element of the Obama administration's bank rescue plan Wednesday, acknowledging that it could not persuade enough banks to sell off their bad assets.
In a move that confirmed the suspicions of many analysts, the agency called off plans to start a $1 billion pilot program this month that was intended to help banks clean up their balance sheets and eventually sell off hundreds of billions of dollars worth of troubled mortgages and other loans.
Many banks have refused to sell their loans, in part because doing so would force them to mark down the value of those loans and book big losses. Even though the government was prepared to prop up prices by offering cheap financing to investors, the prices that banks were demanding have remained far higher than the prices that investors were willing to pay.
There are two ways of understanding what happened here. The first is that banks couldn't sell their assets at current prices because doing so would have rendered them effectively insolvent. In this scenario, PPIP fails to fulfill its intended function: Saving the banks. The toxic assets survive and the banking system remains hollow and unhealthy.
The second is that banks no longer need to rush their troubled assets off their books because they're increasingly able to raise private capital, operate in a restored financial market, and wait out the last vestiges of the storm. They can, in this world, let the value of the assets rise naturally, and sell them off later. In this scenario, PPIP is no longer necessary.
In other words, this is either a sign that all is right with the world or all is much worse than Geithner thought. How's that for a definitive analysis?
(Photo credit: Richard A. Lipski -- The Washington Post Photo)