Congress Pushing Back on Obama's Anti-Settlement Stance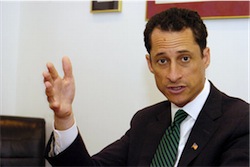 I've remarked twice before that I've been surprised by the level of seriousness with which Barack Obama seems to be pursuing the settlement freeze issue. It's been official American policy that these settlements are illegal and ought to be stopped for a long time, but the tradition is to offer clear signals that the U.S. is in fact willing to turn a blind eye. Thus far, Obama hasn't done that, and now the pushback is beginning:
"There's a line between articulating U.S. policy and seeming to be pressuring a democracy on what are their domestic policies, and the president is tiptoeing right up to that line," said Rep. Anthony Weiner (D-N.Y.), who said he'd heard complaints from constituents during the congressional recess. "I would have liked to hear the president talk more about the Palestinian obligation to cut down on terrorism."
What's telling right there in Rep. Weiner's statement and as pointed out by Ben Smith, the author of the piece, is that none of Obama's critics are willing to say he's actually wrong. Obama wants a settlement freeze, and as Smith reports "few will defend illegal Jewish outposts on land they hope will be part of a Palestinian state." But the sense seems to be that it's somehow unfair for Obama to actually criticize Israel for doing bad stuff, even if we agree that the stuff is bad.
I think the complaint that Obama has somehow failed to mention that Palestinian terrorism is unacceptable is just factually wrong. What's more, Obama hasn't just said terrorism is bad, he's committed to an effort to rebuild the kind of state institutions in the West Bank that can provide provide security. But details aside, there's a real "two wrongs don't make a right" issue here. If it's wrong for Israel to expand settlements—and it is—then it's wrong for Israel to expand settlements and pressure should be brought to bear to make them stop. Settlement expansion doesn't make the murder of civilians okay, and terrorism doesn't make land grabs okay.