Progressive Policy Helps "Red" States
Alec MacGillis had an interesting piece in The Washington Post over the weekend making the case that universal health care would constitute a net transfer of resources from blue America to red America. I think, however, that it's best to think of this as part of a more general phenomenon. Democrats normally favor policies that shift resources from rich people, who tend to vote Republican, to people of more modest means, who tend to vote Democratic. But the more Republican-friendly states are poorer than the Democratic-friendly states. So Democrats who enact progressive redistributive policies tend to be shifting resources to Republican geographical areas. It's important, however, to keep the people and the places separate. For example, here's Andrew Gelman's chart of the Bush-Kerry vote among people in the bottom third of the income distribution: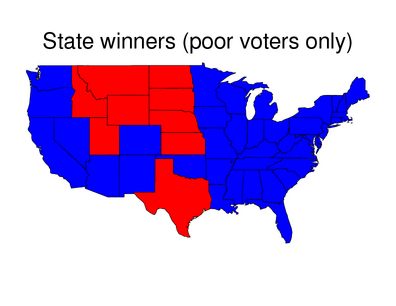 And here's the top third: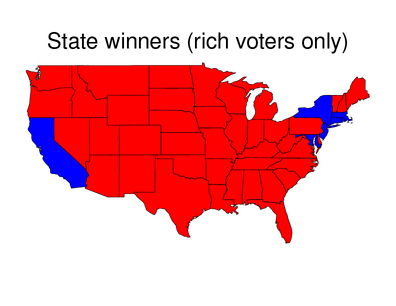 MacGillis's piece highlights the ways in which this aspect of American politics makes certain kinds of change difficult. In effect, there's nobody in the Senate representing the specific interests of the large number of poor people in the deep south. Qua voters, those people are loyal Democrats, so the Republican politicians who represent those areas can comfortably write them off. But the Democrats are hopeless in the region.