Guest Graph: Henry Aaron on Social Security's Solvency
Fun title, right? But this is a new feature on the blog. "Guest Graph" is where I'll ask experts in various fields to contribute a post built around a graph of their choice. They choose the image. They choose the argument. The only constraint is that there needs to be a chart illustrating what they're saying. I decided to start with my friend Henry Aaron, a senior fellow at the Brookings Institution and an expert on health care and entitlement policy. His post -- and graph! -- follows.
The release of the report of the Social Security trustees last week provoked a spate of hand-wringing about the dire straights of the nation's pension system. The 2009 report moved forward the year in which reserves are projected to be exhausted from 2041 to 2037 and increased the average projected deficit from 1.7 percent to 2.00 percent of earnings subject to the payroll tax.
What the news stories didn't convey, but the following charts clearly show, is that Social Security seems to be in pretty much the same situation it has been in for the last fifteen years. It faces a small, projected deficit. A strong economy, like that of the late 1990s, modestly improves the economic prospects of that pension system, but didn't — and isn't likely to — erase that deficit. A bad economy, like the current one, hurts the system somewhat, but less than you might think because Social Security, unlike individual accounts, is built to spread risks and insulate people from being battered by financial market fluctuations.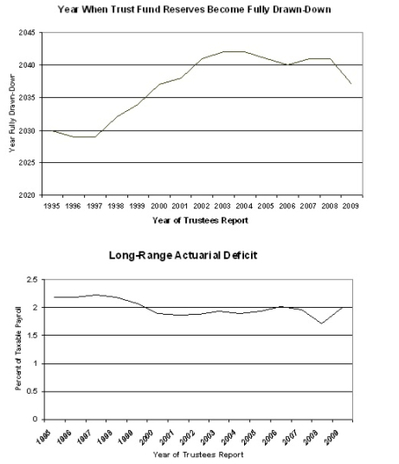 What the charts don't show, but all Americans should appreciate, is that Social Security, with relatively minor adjustments, is rock solid. Social Security is the only pension that is fully protected against inflation and immune to the financial market contagion that has laid low the economic security of many of retirees and disrupted the retirement plans of older workers. Although the need for the secure income that Social Security provides has increased in an ever riskier financial world, benefit cuts enacted in 1983 (but not yet fully implemented) and rising Medicare part B premiums (which are deducted from checks before they are sent out) have eroded Social Security 'take-home pay.'
Against that background, and the demonstrated insecurity of 401ks and even company pension plans, proposals to restore long-term balance by cutting Social Security benefits further seem to be remarkably unwise.