Pity the Country Club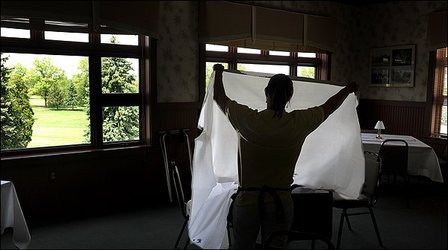 This sort of thing makes me positively ache for the revolution:
Their standing dinner reservation at the country club is for 6:30 p.m., because at least that much never changes. Every Wednesday night, Charles and Mimi Cluss dress in pleated slacks and suit jackets and drive to the manicured playground where Uniontown's elite have gathered for 101 years. It is like a "second home," Charles says of the place where he finalized deals for his lumber company and hosted weddings for two daughters. Except on this night in mid-May, he no longer knows what to expect.
"I wonder if it will be loud and rowdy," Charles says.
The story here is that once-exclusive country clubs are finding they can't support themselves in the economic crisis. So they're going where other business establishments have gone before: They're opening their doors to members of the public who would like to exchange money for goods and services. Sort of weirdly, they've done it by hiring a chef named Michael DiMarco who seems determined to turn the place into Applebee's ("he remade the menu to his liking, adding onion rings with ranch dressing for $3.95, topping his signature salads with french fries and eliminating all steaks smaller than 16 ounces").
So I feel for them on that. But the economic facts are simple enough: Like most people, the members of the Uniontown Country Club can no longer pay an establishment to bar people they don't like from setting foot on the premises.
(Photo credit: Washington Post Photo.)