Cheney's Popularity in Context
The idea that Dick Cheney, who everyone hates, is going to go head-to-head with America's popular new president in a "showdown" is a bit absurd. But just to help hype the matchup, CNN has a new poll out showing that Cheney is now more popular: "As Dick Cheney prepares to give a major speech on the battle against terrorism, a new national poll suggests that favorable opinions of the former vice president are on the rise."
To help put this in context, though, compare the favorable rating CNN registered for Cheney to the favorable ratings CNN registered in April for select foreign countries: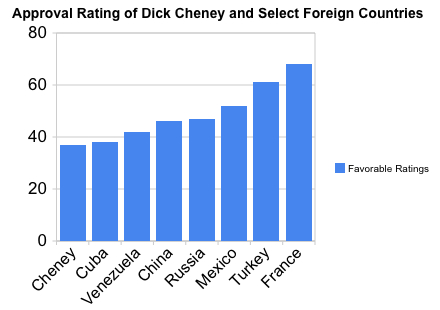 With his new bump, Cheney is only slightly less well-liked than Cuba. China and Russia are kicking his ass.