Canadian Libertarianism, Brought to You Courtesy of Socialized Medicine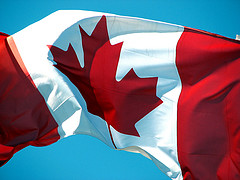 Yesterday there was an interesting outbreak of libertarian praise from a couple of Cato scholars for our neighbor to the North, citing not only Canada's more liberal policies on cultural issues, but touting Canada as a libertarian economic model. It's worth noting, however, that one important driver behind Canada's ability to adopt this policy model is that the Canadian health care system, much-derided by the American right, is much much cheaper than the American system. If we had Canadian-style health care costs and Canadian-style trajectory of cost growth, we wouldn't be facing nearly the same upward pressure on taxes.
It's also worth considering that the guarantee of equal health care no matter what happens to you probably helps build political support for measures that Cato and I both support like liberalized trade and immigration policies. Another thing that's alluded to in the Cato post but not really spelled out is that though Canada has cut tax rates recently, they have far fewer tax loopholes and deductions. In this regard, I think Canada really is a good model for the United States to follow. But the congress hasn't exactly been leaping at the opportunity to adopt Barack Obama's proposals to trim deductions for high-income individuals or to close loopholes for corporations.