GDP Growth Rates for Beginners
For a complete list of Beginners articles, see Financial Crisis for Beginners.
My post about French sociology got a wide range of comments, ranging from "Without a doubt, your best post yet" to "Reading this post made me think, for the first time, of ignoring Baseline Scenario from now on," which I guess indicates we have a wide range of readers. In any case, for today I'm returning to something much more mundane: GDP growth rates. Like many Beginners articles, this one starts out with some basics, and then gets (a little) more interesting, but its main goal is to help you decipher the news that you already read.
To a casual reader, yesterday's GDP announcement was that Gross Domestic Product (an aggregate measure of economic activity) fell by 6.1% or, more precisely, at an annual rate of 6.1%. What does this mean?
For those of you who have never visited the BEA website, this is what the raw numbers look like. (They give you  columns B and E, I calculated the rest.) Note that this is all in 2000 dollars, so inflation has been taken out.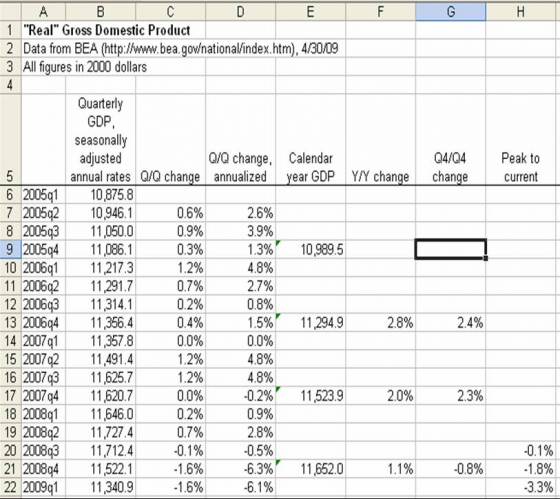 The columns are as follows:
B: Quarterly GDP, or economic activity in that quarter. However, these numbers are expressed as seasonally adjusted annual rates. That is, GDP in 2009Q1 was not $11.3 trillion, but closer to 1/4 of that number, or about $2.8 trillion. The BEA multiplies by four, and also applies seasonal adjustments, like correcting for the fact that different quarters have different numbers of days.
C: The change from the last quarter. So GDP in 2009Q1 was 1.6% less than in 2008Q4.
D: The change from the last quarter, annualized; put another way, the total change you would get if that rate held constant for a full year; or, roughly column C times 4. This is the headline number you see in the newspapers. But the economy has not actually contracted by 6.1%. Skip ahead to column . . .
H: This is the total change in economic activity since the most recent peak. In our case, the last peak was 2008Q2, when annualized GDP reached $11.727 trillion. So far, the economy has contracted by 3.3% - which is already a large amount. Head back to column . . .
E: This is GDP for the full calendar year. Since column B was already annualized, you don't add up the four quarters for each year; instead, you average them. The confusing thing is that there are two different ways of measuring changes in GDP from year to year, shown in columns F and G.
F: This is the simple percentage change in column E. So total economic activity in 2008 was 1.1% greater than in 2007.
G: This is the change from Q4 of one year to Q4 of the next year. This shows you how much GDP grew or contracted during the second year. So the economy in Q42008 was 0.8% smaller than in Q42007, meaning it contracted in 2008 - even though overall there was 1.1% more economic activity in 2008 than in 2007.
GDP also, by definition, has four components: personal consumption expenditures; private domestic investment (investment by companies and households in big things, like factories or houses); net exports (exports minus imports); and government spending. You will also see growth rates (like above) for each of these components, and for their sub-components. You can see all the tables in the BEA's nice news release. For example, in Q1 personal consumption grew at an annual rate of 2.2%, which was the "good" news, but private domestic investment fell at an annual rate of 51.8%, which was the "bad" news. (That 51.8% includes a preliminary wild guess at inventory changes - adding stuff to inventory counts as GDP, taking stuff out of inventory counts as negative GDP - but even excluding inventories, fixed investment fell at a 37.9% rate.) The aggregate GDP growth rates are just the weighted averages of the growth rates of the components.
Yesterday's announcement was at the low (bad) end of most forecasts. The first thing to bear in mind, though, is that this is just the advance estimate. While advance estimates under ordinary circumstances are not that bad, the advance estimate for Q4 was way off. All of these numbers are estimates, and when the world changes, the estimating models become less accurate.
In some cases, a steep fall might mean that the recovery will just come that much sooner - if the floor is somehow independently determined. This could be the case with housing prices, for example, where there are reasons to believe that fundamentals will put a floor under prices, at least expressed as a percentage of average income. But the economy as a whole is a much more complex system, so I doubt you can take the level of the floor as given.
The principles above apply generally to the rates of change you see in the newspaper: you'll see period-to-period changes, which may or may not be annualized, and year-to-year changes, which may compare entire years or a single period with the period one year before. But there are differences in presentation that can be confusing.
For example, the Consumer Price Index (technically, the CPI-U, which is the headline index) is reported on a monthly basis, and changes in the CPI are reported over three different periods:
Change from the previous month, seasonally adjusted (to take into account the fact that people's consumption mix changes over the year) but not annualized. This is the current short-term monthly inflation rate.
Change from three months before, seasonally adjusted and annualized. This is the average annualized inflation rate over the last three months.
Change from the same month the previous year;  this figure is already annualized by construction.
If you look at the most recent CPI news release, you'll see that these three numbers are -0.1% (change from February to March, not annualized), 2.2% (change from December to March, annualized), and -0.4% (change from March 2008 to March 2009). The 2.2% and -0.4% are comparable, because they are both annual rates, but they are not comparable to -0.1%, which is a monthly rate. And is inflation positive or negative? It depends on which number you look at.
(Of course, the figure that the Fed and many economists focus on is CPI with food and energy stripped out. For that measure, the three numbers are 0.2%, 2.2%, and 1.8%, which are much more in line with each other; remember, the first one is monthly and the others are annual.)
When you see housing price changes, like changes in the Case-Shiller index, you usually see changes from the previous month or changes from the same month a year before; which one you focus on can have a major impact on how you interpret the numbers.
You need to be especially careful when interpreting economic indicator indexes. These do not show the absolute level of some economic phenomenon, but they are constructed to reflect the degree of change in some economic phenomenon. As a result, the index is already the "first derivative" of the economic phenomenon, so changes in the index are the "second derivative."
For example, Calculated Risk today reported that the Restaurant Performance Index increased by 0.2% to 97.7 from February to March. However, as CR points out, "Any reading below 100 shows contraction. So the improvement in the index to 97.7 means the business is still contracting, but contracting at a slower pace." In other words, activity was lower in March than in February. Is the increase in the index good news? Well, it's better than a decline, and it's better than staying the same. But indexes like this should have some degree of built-in reversion to the mean (around 100); things just can't keep falling at a linear rate forever.
Finally, the Consumer Confidence Index of the Conference Board can be especially confusing. The index as a whole increased from 26.9 to 39.2 in April (the median over the last 20 years has been around 100, or a little below), driven largely by a jump in the Expectations Index (expectations about how the economy will be in six months) from 30.2 to 49.5. But the reading of 49.5, and the poll questions behind it, still indicate that many more people think the economy will get worse than think it will get better. So what we have is the economy getting worse, and even as it gets worse, most people think it will continue getting worse - but as time passes, a growing minority think that we are within six months of the bottom.
Hopefully that will help people interpret the numbers that make up so much of the economic news these days. As always, if you find mistakes, please let me know.
By James Kwak