How Petraeus Can Win in Afghanistan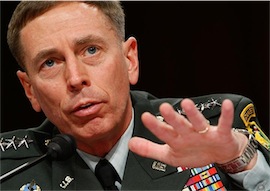 In a new column for the Daily Beast, I hope that General David Petraeus can do for America's policy in Afghanistan what he did for our policy in Iraq, lower expectations, shift goalposts, and pave the way for an orderly exit:
Consider that the Bush administration's National Strategy for Victory in Iraq outlined an aim of an Iraq that "is peaceful, united, stable, and secure; well integrated into the international community, and a full partner in the global war on terrorism." To state the obvious, none of that has happened. Iraq remains a divided and insecure state that doesn't contribute in any meaningful way to whatever the global war on terrorism was supposed to be. Nor does Iraq in any way appear to have achieved Bush's medium term goal of putting a "fully constitutional government in place." No time ever came when Bush redefined the nation's war aims. So if "success" is judged as meaning something so literal as "achieve one's goals" then the surge, like the war, failed. Indeed, Petraeus failed.
And for a long time, that's how I saw it, sitting in Washington vaguely furious that the man was winning accolades for a "victory" that was largely a matter of resetting expectations. In retrospect, that was churlish.
Managing expectations is hugely important and Petraeus did the nation a great service by redefining a win in Iraq as something more like "improve the situation in some respects and recognize that the long-term course of things is out of our hands." Before the surge, after all, the country had been caught in a senseless loop whereby war opponents saw deteriorating conditions as a reason to leave but proponents cited them as a reason to stay and a combination of momentum and national and professional pride ensured that the doves would perennially lose the argument. By combining modest real gains in the situation on the ground in Iraq with an aggressive reframing of the politics of the mission at home, Petraeus set the stage for the orderly withdrawal of American forces that the country needed.
But of course policy in this regard is ultimately set at the top, and it all comes down to what Barack Obama wants to do. His administration has the right principles for the conduct of foreign policy, but there's considerable tension between those principles and the actual practice in Afghanistan. Some deviation in conduct in terms of a situation you inherited from someone else is understandable and forgivable, but the goal has to be to reduce the tension and bring Afghanistan policy in line with the administration's overall strategy.