Research desk responds: How generous is the United States?
By Dylan Matthews
wintday asks:
how do Americans compare with the people of other countries as to charitable contributions, in total, per capita, in proportion to GDP or some other measure of wealth. And if possible, please break out contributions to churches, which, I think, are in large part payment of the cost of mutual member benefits, rather than "charity" which benefits the larger community.
A comparison of non-military foreign aid (international "charity," if you will) would also be interesting. And if you can, note aid which is truly disinterested from aid which is tied to purchasing donor goods.
I'm afraid there's no data that breaks out churches, and I'm not sure, contra wintday, that would be wise. Some church contributions go to spending benefiting the individual congregations, but some go to organizations like Episcopal Relief & Development or Catholic Relief Services that do on-the-ground charity work. The UK's Charities Aid Foundation did a comparison (PDF) of nations' giving as a percentage of GDP and, sure enough, the United States comes out ahead by a wide margin: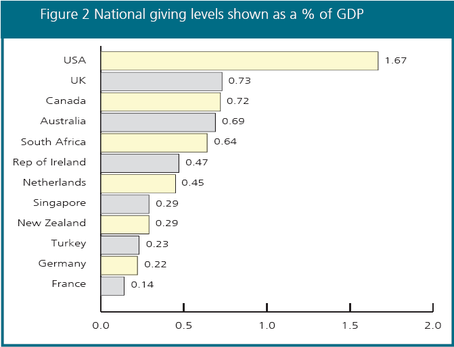 The foreign aid numbers are less favorable. The OECD's Official Development Assistance (ODA) is the standard metric for comparing government-provided non-military foreign aid. Here are how members of the OECD's Development Assistance Committee compare (PDF):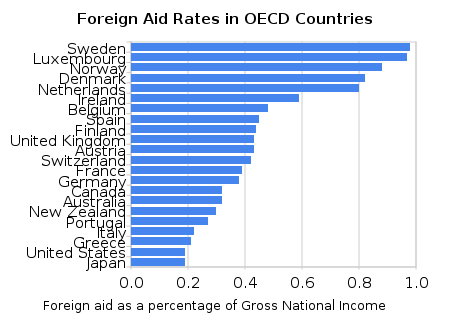 Now, charitable giving and foreign aid aren't interchangeable goods. Many individual donors give to domestic charities, for instance, and foreign aid allows for large-scale projects that even the wealthiest charities could not manage alone. So, for example, the United States' high charitable giving rate compensates not just for its low international giving but for its smaller domestic welfare state. Nonetheless, these numbers are an interesting reflection of how comfortable each country's people are with channeling their generosity through government institutions.





United States - Economic - Philanthropy - Charities - Charitable organization