Reactions to last week's economic data
Here I offer some thoughts on last week's numbers for employment, auto sales, and commodity prices.
On Friday the Bureau of Labor Statistics reported that 20,000 fewer Americans were working in January compared with December on a seasonally adjusted basis but that the unemployment rate nevertheless fell from 10.0% in December to 9.7% in January. The discrepancy comes from the fact that the BLS gets employment counts in two different ways. The first is by asking establishments how many people they employed last month, and this establishment survey provides the basis for the reported 20,000 decline in nonfarm payrolls. But a second method is to go to individual residential addresses and ask the occupants how many people living there were working last month. According to the BLS household survey, the number of Americans working increased by a seasonally adjusted 541,000 workers in January over December, though updated population controls make that December-to-January comparison for the household survey problematic. Usually what we hear featured in the press are employment numbers coming from the establishment survey and an unemployment rate coming from the household survey. The wildly diverging fundamental numbers for employment itself in the two surveys account for the reported improvement in the unemployment rate coinciding with no progress yet on jobs. Mark Thoma, Phil Izzo, and of course Bill McBride
([1],
[2])
survey the takes of various analysts on what to make of the conflicting numbers.
Normally the establishment survey is regarded as the more reliable, though Tim Kane has argued that the household survey sometimes does a better job of recognizing turning points. We might look to some other labor market indicators to try to referee the current dispute. Automatic Data Processing constructs its own estimate based on the 22 million Americans whose payrolls it helps prepare, and their guess was that the economy shed 22,000 private sector jobs in January on a seasonally adjusted basis. Since BLS estimates that 8,000 government jobs were lost in January, ADP's estimate is about 10,000 more pessimistic than the BLS payroll figure. The Institute for Supply Management's survey of nonmanufacturing establishments found more managers reporting declines in employment than reported increases in employment in January. By contrast, their survey of manufacturing establishments found more managers reporting increases in employment than declines. Fair to say that the signals are mixed, but things may not be as bad as the BLS nonfarm payroll numbers suggest.
Earlier in the week we received reports on January auto sales that could also be described as no better than lukewarm. Americans purchased 6% more light vehicles last month than they had in January 2009. That might sound encouraging, unless you've forgotten that January 2009 was the worst month for car sales out of the last 6 years (on a seasonally unadjusted basis). Last week's good news was that January 2010 was only the third worst month out of the last 6 years, beating both January and February 2009. Nonetheless, that's the same basic arithmetic that gives rise to some hope for 2010 reported growth rates-- things were so awful last year that even a very bad month counts as an improvement.
Data source: Wardsauto.com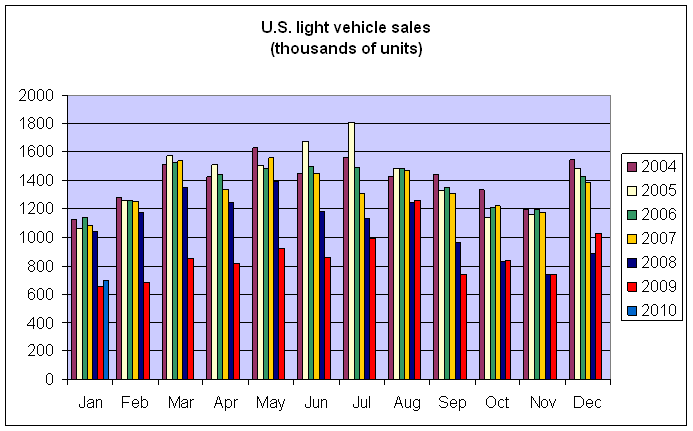 I also continue to follow with interest what's been happening to commodity prices, with both oil and copper now off 15% from their values of just a few weeks ago. I'm persuaded that speculation in China has been a big part of the story on both the way up and now on the way down. Greg Merrill calls attention to the estimate by the International Copper Study Group that China's apparent usage of copper grew by 43% in the first 10 months of 2009, while copper usage by the rest of the world fell by 18% over the same period. If stockpiling in China has indeed come to an end, that would explain the sharp fall in prices, and could portend more to come.
Source: Kitco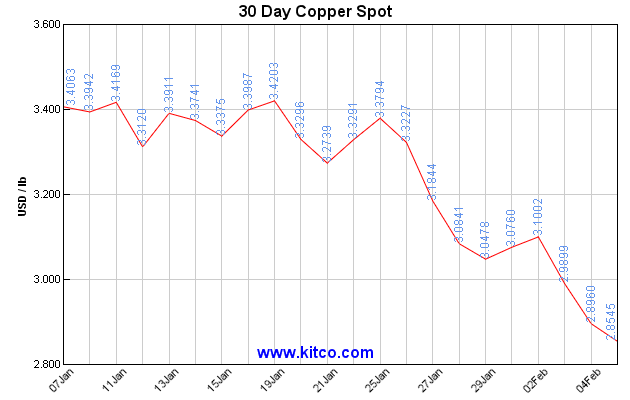 Source: ino.com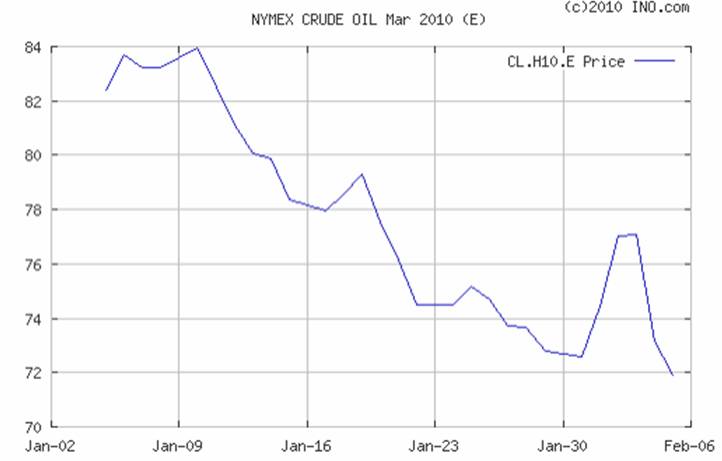 Finally, I have to pass along a story that Mike Shedlock highlighted from Bloomberg:
Non-performing loans in China have risen into the "trillions of renminbi" because of poor lending practices, an insolvency lawyer said.
"We work really closely with SASAC, the state-owned enterprise regulator in China, and there are literally trillions and trillions of renminbi of, frankly, defaulting loans already in China that no one is doing anything about," Neil McDonald, a Hong Kong-based business restructuring and insolvency partner with Lovells LLP, said at an Asia-Pacific Loan Market Association conference yesterday. "At some point there's going to be a reckoning for that."
China's government is tightening controls, including banks' reserve ratios, to prevent record lending from fueling inflation. The Shanghai office of the China Banking Regulatory Commission warned yesterday that a 10 percent fall in property values would treble the number of delinquent loans in the city. Liu Mingkang, chairman of the CBRC, said Jan. 4 that loans were channeled into stock and property speculation last year, which China has been taking measures to stop.
My bottom line: the scales tipped last week in the direction of near-term deflationary pressures, despite the strong 2009:Q4 U.S. GDP report and falling unemployment rate.