A good message is not nearly as important as a fast process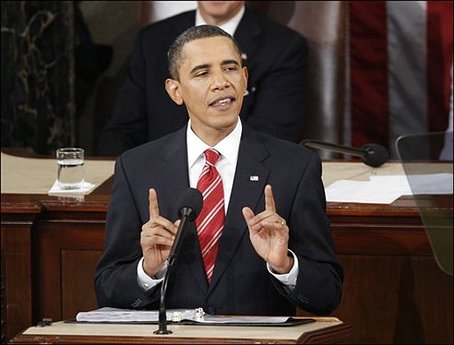 "Democrats were too busy dealing [on the health-care bill] to come up with a counter story," sighs Harold Pollack. "Not just once, in a complicated speech, but every day and in ways that connect."
I'm a bit reticent on criticizing the administration's messaging on health care. My basic position is that their PR strategy wasn't as good as it could have been, but it wouldn't necessarily have mattered if it had been much better. The biggest problem, the one that's made all everything else so difficult, is not what President Obama hasn't said, but how much time he's had to not say it. The process has simply taken too damn long.
No president, under any circumstances, can control the narrative around a piece of legislation when it's on the front pages every day for a year. The media report new things, not old things. "President still thinks caring for one another is important" is an old thing. So too is "health-care reform bill still projected to cut deficits, much as it was yesterday." "Ben Nelson given special Medicaid deal" is a new thing, and so too is "documents show health-care industry spent $648 million buying members of Congress."
The new things that happen are all twists in the legislative process. Deals that get cut. Votes that have to be taken. Angry statements by Republicans. Fights over the public option. Scandals reporters unearth. To the media, the story is how the bill gets passed, which means the attention is on what stands between it and passage, which means the daily story is always and everywhere the part of the bill that is controversial and giving everyone heartburn. The fact that the story of the Medicaid deal is much smaller than the fact of the bill is immaterial. They both end up on A1.
This focuses Americans on the part of the political process that scares them: disagreement. In their book "Stealth Democracy: Americans' Beliefs About How Government Should Work," the political scientists John Hibbing and Elizabeth Theiss-Morse use focus groups and voluminous survey data to show that people don't know much about policy and don't care much about policy. Instead, they believe in broad goals for the country, and they think that political actors working in good faith could accomplish those goals with a minimum of disagreement if they were interested in doing so.
"People believe that Americans all have the same basic goals," write Hibbing and Theiss-Morse, "and they are consequently turned off by political debate and deal making that presuppose an absence of consensus. People believe these activities would be unnecessary if if decision makers were in tune with the (consensual) public interest rather than cacophonous special interests."
Disagreement and deal-making, in other words, signal something going wrong in the political process. They signal that legislators aren't acting in service of the common-sense consensus of the American people, and are instead serving special interests. Moreover, that's often true. Add in the disagreement that stems from party politics, and you've got a pretty ugly sphere. The hope, of course, is that the American people will take a good, long look at the situation and decide who's right and who's wrong. But they don't. They just lose trust in the whole process, and everyone in it.
There aren't a lot of good answers to this. But the best is to do everything you can to avoid letting it drag out. Time is not the friend of reform. That's not because Americans understand the bill better, and grow to hate it. As recent polls show, the component parts of health-care reform remain popular, and even more amazing, they remain little-known.
But there's no presidential narrative that can impose shape on a year-long legislative brawl. No speeches that can overwhelm the daily stories, no strategies that can secure enthusiastic bipartisanship for a major legislative achievement that will help one party in the next election. Time emphasizes what Americans hate and distrust about the legislative process (which is, put simply, the workings of the legislative process), and that drives them away from the bill. If you can't make these efforts move quickly, then you have already lost the argument. A good message is not nearly so important as a fast process.
Photo credit: AP Photo/Charles Dharapak.