Is the Obama Budget Half Full or Half Empty?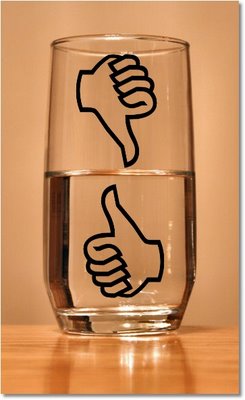 Readers may be confused: is my (still developing) assessment of the Obama budget a net positive one, or not? Well, YES. Being the optimist I am, my "view" is that this budget glass is "half full."  But it's only (at best) half full.  That's because from my perspective as a fiscal hawk, while the Obama budget qualitatively calls for a set of good fiscal discipline tools (statutory PAYGO, discretionary spending constraints, some decrease in inefficient tax expenditures, a fiscal commission, and health care reform) that have some potential to make a difference, it still fails to go far enough quantitatively with specific plans that would actually fill in–versus open up–the fiscal gap.  The failure to "follow through" in filling at least the ten-year budget glass, has mostly to do with the Administration's unwillingness to make the necessary changes in tax policy–or even to talk about the possibility of such changes with the American public.
When I first look at the President's budget, I avoid reading press stories on it and even the introductory words in the budget itself and instead go straight to the summary tables.  I figure sticking to the plain numbers and the few descriptive explanatory words in the rows of the tables will help me take in my first view of the budget without seeing it through either the clouded lenses of other budget analysts or the rose-colored lenses of the Administration.  But in this year's budget, even the summary tables have a lot of art and spin to them.  In fact, there are so many ways of labeling and spinning the numbers–and the Administration demonstrates this well just in their tables–that it makes one dizzy and confused.
So here are some of my quick and fascinating details from the Obama budget, obtained from my perusal of just the summary tables alone.
In my mind, the place to start is Table S-7, the "bridge from budget enforcement act baseline to baseline projection of current policy"–because if you don't start there, you won't understand where the Obama Administration is starting from in proposing their budget policies.  Some of what you learn from that table:
The ten-year (FY2011-20) budget deficit under current law (i.e., if Congress and the Administration passed no new tax or spending policies over the next ten years) is $5.472 trillion.
Yet the Administration claims it is starting from a ten-year deficit that's nearly double that: $10.640 trillion.  That's because the Administration first adds in the cost of permanently extending (and fully deficit-financing) the following:  permanent relief from the alternative minimum tax ($659 billion), permanent extension of all of the 2001 and 2003 tax cuts ($3.097 trillion), and the "doc fix" to override scheduled reductions in Medicare physician payments ($371 billion).  Note: that's $3.8 trillion worth of added deficits due to the assumed permanent extension of the tax cuts (AMT and Bush tax cuts) alone.
Then you can go to Tables S-1 (budget totals) and S-2 (effect of budget proposals on projected deficits) to understand how the policies proposed by the Obama Administration affect the deficit outlook.
Table S-2 suggests that a substantial amount of deficit reduction is achieved through increased revenues, because it shows $749 billion in additional revenue from "other revenue changes" (various tax increases on businesses I'll detail further below) and $678 billion from letting the upper-income tax provisions in the Bush tax cuts expire.  Relative to the policy-extended starting point chosen by the Administration, this implies that tax policy provides around $1.5 trillion in deficit reduction out of the $2.1 trillion total deficit reduction shown.  (And yet interestingly, nowhere in this table does the phrase "tax increase" or even "revenue increase" appear; tax increases are labeled "changes" or "provisions", while tax decreases are (more clearly) labeled as "cuts.")
But the starting point for Table S-2 is the $10.6 trillion ten-year deficit under the policy extended baseline.  If you keep track from the current-law baseline (and its $5.5 trillion, ten-year deficit), the tax increases proposed in the Obama budget merely bring the net tax cuts in the Obama budget down from $3.8 trillion to around $2.6 trillion.  That's a net tax cut relative to current law, of $2.6 trillion.
So Table S-1 shows that the Obama budget brings the ten-year deficit "down" to $8.5 trillion relative to the $10.6 trillion policy-extended baseline–a decrease of more than $2 trillion–while it actually brings the deficit "up" by more than $3 trillion relative to current law.
Confused?  Of course.  That's exactly what these different baselines and poor labels are designed to encourage.  But let's go on…
That opening table (Table S-1) in the summary tables section has an unusual amount of words in it, because it contains a box describing the fiscal commission, designed to reassure us that ultimately the Administration's policies will get deficits down to a truly sustainable level–below the 3.9 percent of GDP shown in 2015 under the budget "without fiscal commission."  It's not exactly a glossary to help you identify the tax increases versus decreases, because the Administration sticks to its self-imposed rule of never uttering the words "higher" or "increase" next to the word "taxes."  We can read of the goals of "balancing the budget" and "stabiliz[ing] the debt-to-GDP ratio" and "examin[ing] policies to meaningfully improve the long-run fiscal outlook".  And we can even be warned of necessary "changes to address the growth of entitlement spending and the gap between the projected revenues and expenditures."  But to explicitly suggest that "tax increases" might be part of the strategy to reduce that gap?  Never!
The Obama budget does not in fact propose any overall increase in taxes.  If you look at the levels of revenue and spending in Table S-1 and compare with the CBO current-law baseline, you'll see revenues in 2015 that are 0.8 percent of GDP lower than under current law, and spending that's 0.6 percent of GDP higher–producing deficits under the Obama proposals in 2015 that are 1.3 percent of GDP higher than CBO shows for current law.
Next, make  your way down to Table S-8, showing "mandatory and receipt proposals."  Again, with few words in these tables, the Administration manages to speak volumes about their fiscal policy and public relations strategies.  I've looked at the way they sort out and label their tax policies and notice the following:  First, any tax increases are never labeled such, and they always hit those who fall under one (or more) of these three categories: (i) bad corporations, (ii) tax cheats (or those who otherwise engage in tax waste, fraud and abuse), and (iii) rich people.  Second, any tax decreases are clearly (and proudly) labeled "tax cuts" and are for good things and people–such as for "recovery" and "families and individuals" and "small businesses."
Using such labels, here's how the bulk of the Administration's proposed tax policies (apart from extension of the Bush tax cuts and AMT relief) break down–all relative to the Administration's current-policy-extended baseline.  First, under the "happy tax cuts" category:
"Tax Cuts" that are part of the "Temporary Recovery Measures":  $47.3 billion;
(Permanent) "Tax Cuts for Families and Individuals": $143.4 billion;
(Permanent) "Tax Cuts for [small, main-street-type] Businesses": $93.5 billion; and
"Continue certain expiring provisions through calendar year 2011″ [too diverse a group of provisions to come up with one happy label for or otherwise justify]:  $46.7 billion.
Then, under the "tax the evil ones" (but, shhhh… don't call them "tax increases") category:
the "financial crisis responsibility fee" (aka tax on "bad Wall Street firms"): $90.0 billion;
other tax increases that "reform treatment of financial institutions": $3.3 billion;
"Reinstate Superfund taxes" (aka tax on polluters): $18.9 billion;
"Reform U.S. international tax system" (aka tax on multinational corps): $122.2 billion;
"Eliminate fossil fuel tax preferences" (aka tax on big oil polluters): $38.8 billion;
"Tax carried interest as ordinary income" (another tax on Wall Street): $24.0 billion;
"Reduce the tax gap" (aka get rid of "waste, fraud, and abuse" in the tax system and go after "tax cheats"): $49.4 billion;
"Reform treatment of insurance institutions" (aka tax on evil insurance companies);
"Upper-income provisions devoted to deficit reduction" - Bush tax cuts portion (aka, taxes on the rich–but the irony of the "deficit reduction" label being it can't be counted as reducing the deficit for PAYGO purposes because these tax increases are already counted in current law): $678.3 billion; and
Limit on itemized deductions to 28 percent (another tax on the rich–quickly and soundly rejected by Congress when proposed last year as a way to fund health reform): $291.2 billion.
So the reason I think the Obama budget only fills the glass (or the bill) halfway at most is because there's a lot left to be desired in terms of tax policy, which I continue to insist has got to be most of the strategy to get deficits down to sustainable levels within the ten-year budget window.  Still don't believe me?  Just read Len Burman's column in today's Washington Post, where he explains how much further we would get if we froze tax expenditures instead of discretionary spending.  Or read Joann Weiner's column over on Politics Daily (Joann being another tax policy expert) where she explains how the Obama budget really only tinkers around with tax policy and seems to contain many "self-inflicted wounds."
The Administration's fiscal commission will have a chance to recommend how to follow through on good intentions and more adequately "fill up" the budget, and we can expect that more fundamental tax reform and increased revenue (yes, "higher taxes"!) will have to "come out" as a big part of the solution.