Wall Street Breakfast: Must-Know News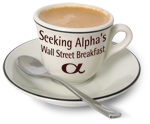 TARP chief probes insider trading... TARP Special Inspector General Neil Barofsky is investigating insider trading among bank executives and their associates, in particular whether information was improperly shared with traders while the government and banks were exchanging bailout information. Details were not available as to which TARP recipients are part of the probe.
...and warns of TARP abuse. Special Inspector General Neil Barofsky released his quarterly TARP report (.pdf) over the weekend, showing that TARP abuse, or at least potential TARP abuse, has risen significantly. Investigations of misconduct increased 41% in Q4, and many of TARP's goals "simply have not been met." Barofsky warned the Federal Reserve's support of the mortgage market might be creating another housing bubble, and stressed the need for reform, noting "even if TARP saved our financial system from driving off a cliff back in 2008, absent meaningful reform, we are still driving on the same winding mountain road, but this time in a faster car."
Swiss bank info up for sale. An informant is offering to sell German officials the details of 1,500 people who allegedly have untaxed income in Swiss bank accounts. The Swiss government said it considers the information "stolen goods" and that a purchase would be illegal. According to German media reports, the unidentified informant has already provided Germany with data on five individuals to prove the information is accurate.
UBS falls on possible tax deal fallout. Shares of UBS (UBS) fell to their lowest level since July in Swiss trading after Switzerland's justice minister outlined the risk to the Swiss economy should UBS' deal with U.S. tax authorities fall apart. If UBS fails as a result of losing its U.S. license, "the Swiss economy and the job market would suffer on a major scale," said Justice Minister Eveline Widmer-Schlumpf. Shares were down 0.9% to 13.89 Swiss francs.
Blankfein bonus could reach $100M. Goldman Sachs (GS) CEO Lloyd Blankfein could take home a bonus of up to $100M, say bankers who were at the World Economic Forum in Davos. Blankfein took home a $67.9M bonus in 2007, and Goldman's profits last year were $1.8B higher than in 2007, providing the bank a justification to pay him even more. The move is sure to upset lawmakers who are pressing for compensation reform, and will likely anger other Goldman employees as well, since Goldman's London-based partners have agreed to limit their pay for last year to £1M each.
Clouded success for stimulus-driven jobs. Recipients of economic-stimulus funds reported that 599,108 employees were being paid with stimulus money in Q4, raising questions about the efficacy of stimulus measures. The White House, which previously said stimulus funds kept 1.5M-2M jobs in the economy through the end of 2009, contends that the new report is just "a snapshot of the impact of a small portion of funds" and that the stimulus plan is on track. Many opinion polls suggest the public believes otherwise, prompting lawmakers to consider an additional injection of funds for job creation.
Deficit to reach new peak. Obama plans to propose a $3.8T budget today for FY 2011, with deficit projections at a record $1.6T for this year. Congressional sources say Obama's proposal will bring the deficit down to $700B, or 4% of GDP, by 2013, though to do so Obama will have to secure some spending cuts that have been previously failed to gain support. The 2011 deficit will surpass the current fiscal year's deficit of $1.4T, in part because of new spending for a proposed jobs package "somewhere in the $100B range."
Volcker makes the case for financial reforms. In an op-ed published Saturday, Paul Volcker made the case for stripping commercial banks of their proprietary trading desks, noting that "apart from the risks inherent in these activities, they also present virtually insolvable conflicts of interest." He also wrote that allowing charter banks to play with the hedge funds "only tilts a level playing field without clear value added." Though some praised his call for reforms, others took issue with Volcker for not recognizing the "magnitude of structural change needed" and for presenting solutions that seemed "anachronistic."
Toyota finds faulty-pedal fix. Toyota (TM) announced its plans to begin fixing accelerator pedals this week after last week's massive recall. U.S. regulators have approved the repair, and parts will ship as soon as February 8. The repairs should hopefully bring an end to a recall that has expanded to millions of cars, including cars from other automakers; over the weekend PSA Peugeot Citroen recalled 90,000 cars that may have the same gas-pedal flaw and that were made in a factory where Toyota and Peugeot jointly manufacture small cars.
Airline alliance aims for antitrust approval. British Airways (BAIRY.PK), American Airlines (AMR) and Iberia are offering changes to their plans to share more of their trans-Atlantic routes in order to secure antitrust approval from the European Union. The European Commission said earlier today that it's "assessing the effectiveness of proposed commitments."
Disney looking to offload Miramax. Disney (DIS) is reportedly looking to sell the remains of its Miramax film unit as it seeks to focus on big-budget, branded movies. Seven to ten bidders have expressed interest in the Miramax name and its 700-film library, and a sale could bring in over $700M.
Trading curbs hit RBS Sempra deal. JPMorgan Chase's (JPM) has reportedly withdrawn its interest in RBS Sempra's (RBS, SRE) global commodities trading unit over concerns about proposed U.S. financial reforms. JPMorgan, which had been in talks to pay £2.5B ($4B) for the unit, believes the purchase could become problematic if lawmakers move ahead with plans to severely curb banks' proprietary trading. JPMorgan is still in talks to buy RBS Sempra's metals business as well as its European oil, power and gas divisions.
China threatens U.S. sanctions. China is suspending military exchanges with the U.S. and has threatened to impose sanctions against U.S. companies, following a $6.4B U.S. arms sale to Taiwan. Companies that are likely targets of the potential sanctions include Boeing (BA), Lockheed Martin (LMT), Raytheon (RTN) and United Technologies (UTX).
News Corp. settles antitrust suit. News Corp. (NWS) agreed to pay $500M to marketing-services firm Valassis Communications (VCI) to settle an antitrust lawsuit stretching back four years. Valassis, which sells coupon inserts in Sunday newspapers and in grocery-store displays, had claimed a News Corp. unit had unfairly used its market power to gain advantages over competitors.
Amazon caves on e-book pricing. Amazon (AMZN) gave in to publisher Macmillan over higher e-book prices after previously removing all Macmillan titles from its Kindle website. Amazon explained the reversal by saying "ultimately we will have to capitulate and accept Macmillan's terms because Macmillan has a monopoly over their own books," but didn't specify a timeline for when it will begin selling Macmillan titles again. Amazon has been charging $9.99 for bestsellers, and Macmillan wants to charge $12.99 to $14.99.
Citi may sell private equity unit. Citigroup (C) reportedly plans to sell or split off its $10B private equity unit to reduce debt. Managers of the Citi Private Equity unit are considering buying it themselves.
Friday's failures. Six more banks were closed on Friday, bringing this year's failures to 15. In total, 154 banks have been closed since the beginning of 2009. Friday's closures included banks in California, Florida, Minnesota, Washington and Georgia (I, II).
Earnings: Monday Before Open
Enterprise Products Partners L.P. (EPD): Q4 EPS of $0.52 beats by $0.03. Revenue of $8.4B (+42%) vs. $6.2B. (PR)
Humana (HUM): Q4 EPS of $1.48 in-line. Revenue of $7.6B (+2%) vs. $7.8B. (PR)
NiSource (NI): Q4 EPS of $0.35 misses by $0.01. Revenue of $1.5B (-37%) vs. $1.48B. (PR)
Today's Markets
In Asia, Nikkei +0.1% to 10,205. Hang Seng +0.6% to 20,244. Shanghai -1.6% to 2,941. BSE flat at 16,356.
In Europe at midday, London +0.15%. Paris -0.15%. Frankfurt flat.
Futures: Dow +0.4%. S&P +0.4%. Nasdaq +0.3%. Crude +0.4% to $73.18. Gold -0.15% to $1,081.40.
Monday's Economic Calendar
8:30 Personal Income and Outlays10:00 ISM Manufacturing Index10:00 Construction Spending
Notable earnings before Monday's open: ACV, AMG, EPD, GCI, HUM, NI, SYY, XOM
Notable earnings after Monday's close: APC, CCK, HOLX, MNKD, PCL, RYAAY
Seeking Alpha editors Eli Hoffmann and Jason Aycock contributed to this post.Complete Story »