David Axelrod on politics, policy and the filibuster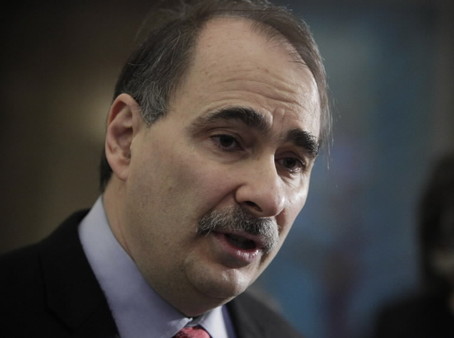 "The Republicans have it both ways," David Axelrod said in a conversation with a handful of journalists this afternoon. "They have the ability to block, but they assign us the responsibility to govern." But pressed for the White House's answer to that dilemma, Axelrod fell back on platitudes. "They either work with us or they have to pay the price for working against us," he replied. But what price?
For the last year, Republicans have worked, assiduously and effectively, to derail the Democrats' legislative agenda. This, in fact, was a constant in Axelrod's remarks. "They made a decision they were going to sit it out and hope that we failed, that the country failed." It's been an inarguable success for the Republican Party. Health-care reform is on life support. Republicans just won a Senate seat in Massachusetts. Election experts are beginning to talk about a potential Republican takeover in November. There is no case to be made that the GOP is in a worse position than a year ago.
Which made Axelrod's threats of consequences a bit tinny. "If they want to block everything," he said at another point, "they will be held to account." Later: "We are going to very visibly seek their support moving forward, and we will shine a bright light on them when they don't." Asked whether the administration had a new strategy for doing any of that, Axelrod had no real answer.
But if it's hard to shine a light on minority obstructionism, it's entirely possible to launch an attack on the tools of obstructionism. Axelrod repeatedly identified the filibuster as the central problem without going quite so far as to say the administration was interested in changing it. "That's a worthy discussion to have," he said. "There were more filibusters in 2009 than in the 1950s and 1960s combined." But, Axelrod continued, "I am more interested in what we get done this year."
The problem, however, is that the filibuster makes it unlikely that the administration will get much done this year. And the White House's disinterest in making an issue out of the filibuster ensures that the public won't really know why they're not getting much done. A Pew poll released today found that only 26% of Americans could correctly identify 60 votes as the numbers needed to break a filibuster. Another 25% thought 541 votes was sufficient, and 37% had no idea.
Similarly, 39% of Americans have no idea how many Republicans voted for health-care reform. Only 32% know that zero Republicans voted for health-care reform, at least in the Senate. For that matter, only 39% of Americans know who Harry Reid is.
It's a depressing poll, and for the White House, it should be a troubling one. Their argument essentially relies on a fairly deep level of procedural knowledge and interest. Enough, at least, to understand that the amount of governing the majority can do is dependent on how much governing the minority lets them do. It's not an easy argument to make, and it's even harder if the White House does not plan to make an issue out of its premises.
At the very least, that poll suggests that there will be little political sympathy for an unsuccessful Democratic majority. Republicans may be responsible if health-care reform fails, but Democrats will bear the blame. "It would be a great political mistake to walk away from this," he said. "It will allow the negative characterization from the opposition and the insurance industry to stand. We will be held responsible for a caricature."
Passing health-care reform through a Senate where the Republicans hold 41 votes and see enormous opportunity in killing the bill once and for all will be challenging, to say the least. The Democrats' only real hope is using the 51-vote reconciliation process to pass a package of amendments in the Senate that will convince the House to pass the Senate's bill. Asked about reconciliation, Axelrod chose his words carefully. "Reconciliation is a tool that is there to be used," he said.
Photo credit: M. Spencer Green/AP.