Wall Street Breakfast: Must-Know News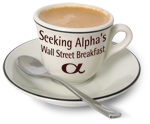 More on the NY Fed's AIG bailout. According to documents provided to Congress, the New York Federal Reserve received a report in November 2008 indicating that various banks had significant bargaining power with AIG (AIG) over insurance contracts, and would have little incentive to cancel the contracts unless they received full value. Two days after receiving the report, an internal email was circulated that said "we've given up on concessions," and NY Fed officials have subsequently said their goal was to keep institutions safe, not to abuse their power to get the government a better deal. Documents also show that the SEC considered applying national security status to many of the AIG bailout details after receiving confidentiality requests from AIG and the NY Fed.
FDIC considering bond issue. The FDIC is considering repackaging billions of dollars of assets from failed banks into securities in an effort to boost the market for mortgage-backed bonds. The FDIC has over $36B in assets on its books from banks that failed during the financial crisis, and a bond issue would mark a milestone in the government's efforts to offload troubled assets from the banking system.
Liberty Global sells Jupiter stake. Cable company Liberty Global (LBTYA) agreed to sell its 37.8% stake in Japanese telecom provider Jupiter Telecommunications for $4B, a move that will allow Liberty Global to focus on consolidation of the European market. KDDI Corp., Japan's second-largest telecom company, is the buyer, and is paying a 65% premium to Jupiter's closing share price on Friday.
Major NY real estate project goes to creditors. Tishman Speyer Properties and BlackRock (BLK) turned over their massive New York real estate project to creditors this morning. The two owners bought the Stuyvesant Town and Peter Cooper Village apartments for a record $5.4B in 2006, and said the decision to hand the property over to creditors was because "a battle over the property or a contested bankruptcy proceeding is not in the long-term interest of the property, its residents, our partnership or the city." The decision marks the collapse of one of the most high-profile deals of the real estate boom.
China defends internet censorship. Earlier today, the Chinese government strongly denied any connection to internet hacking, saying "any accusation that the Chinese government participated in cyber attacks, either in an explicit or indirect way, is groundless and aims to discredit China." Officials also said that internet censorship is legal and other countries should stop getting involved in China's domestic affairs.
Bankers to fight reforms at Davos. Wall Street leaders are heading to the World Economic Forum in Davos with plans to lobby for softer bank reforms than the ones Obama proposed. They also plan to oppose the break-up of large financial firms, insisting the problem of too-big-to-fail can be addressed through other regulatory means. However, bankers arriving at Davos have far less clout than they used to, raising questions about just how much their lobbying efforts will achieve.
BHP, Rio face antitrust probe. European Union regulators are launching an investigation into whether an iron-ore joint venture between BHP Billiton (BHP) and Rio Tinto (RTP) restricts competition. BHP and Rio have said the deal will save them at least $10B annually.
Google guys sell shares. Google (GOOG) co-founders Larry Page and Sergey Brin filed to sell around 5M shares each over the next five years, a stake worth around $5.5B total in today's prices. After the sale, Page and Brin will be left with 48% voting power, compared with 59% today.
Shell gets back to basics. Royal Dutch Shell (RDS.A) plans to significantly slow down its controversial expansion into tar sands, said CEO Peter Voser, as the company shifts away from high-cost "unconventional" oil production. Instead, Shell will bet on its ability to find new gas and oil fields and will rely on those reserves to generate future growth.
Blackstone eyes U.K. banking sector. Blackstone (BX) CEO Stephen Schwarzman confirmed his investment group is considering entering the U.K. banking market, following rumors last week that Blackstone had applied for a U.K. banking license. Sources say Blackstone is expected to put £200M ($326.5M) into a venture called The Home and Savings Bank.
Jet-financing decision up in the air. Rivals Boeing (BA) and Airbus have teamed up to fight a controversial plane-financing decision. Canadian plane maker Bombardier is producing a new aircraft larger than the regional planes it has produced in the past, and big enough to compete with models by Boeing and Airbus. Canada has proposed financing the plane on advantageous terms available for smaller jets, but not for most Boeing and Airbus planes. Canada says it's free to do so, but the U.S. and European Union are backing Boeing and Airbus, and the countries are set to meet next week to discuss the issue.
Saab deal imminent. GM is nearing a deal to sell its Saab brand to Spyker cars, with a provisional agreement expected as soon as today.
AOL buys StudioNow. AOL (AOL) announced this morning that it bought StudioNow, an online platform for video creation and distribution, for $36.5M in cash and stock. The platform will be used in its newly-launched content management system, Seed.com.
Major capital boost for Bank of China. Bank of China plans to raise tens of billions of dollars in new capital and is seeking shareholder approval to sell new shares. It's the first major Chinese bank to try to aggressively shore up its balance sheet following a major lending spree that raised concerns about the health of the Chinese banking sector.
Sam's Club cuts workforce, stores. Wal-Mart (WMT) plans to cut around 11,200 jobs at its Sam's Club warehouses, roughly 10% of its workforce, as it outsources certain in-store marketing positions. Wal-Mart also plans to close 10 underperforming warehouses. Brian Cornell, CEO of Sam's Club, said the move wasn't about cost cuts but rather boosting customer loyalty and sales; Sam's Club has underperformed the Walmart chain, as well as rivals Costco (COST) and BJ's Wholesale Club (BJ).
Friday's failures. Five more banks failed on Friday, bringing the 2010 total to nine. The failures weren't cheap either, with the one in New Mexico costing the FDIC $201.9M and the one in Oregon costing $172.5M. The other three banks were in Florida, Missouri and Washington.
Earnings: Monday Before Open
Eaton (ETN): Q4 EPS of $1.35 beats by $0.12. Revenue of $3.1B (-10%) in-line. (PR)
Ericsson (ERIC): Q4 EPS of SEK 0.10 misses by SEK 1.28. Revenue of SEK 58.3B (-13%) vs. SEK 59.8B. (PR)
Halliburton (HAL): Q4 EPS of $0.28 beats by $0.01. Revenue of $3.6B (-25%) in-line. (PR)
PrivateBancorp (PVTB): Q4 EPS of -$0.30 beats by $0.03. (PR)
Quest Diagnostics (DGX): Q4 EPS of $0.97 beats by $0.01. Revenue of $1.8B (+3%) in-line. (PR)
Today's Markets
In Asia, Nikkei -0.7% to 10,513. Hang Seng -0.6% to 20,599. Shanghai -1.1% to 3,094. BSE -0.5% to 16,780.
In Europe at midday, London -0.4%. Paris -0.1%. Frankfurt -0.3%.
Futures: Dow +0.8%. S&P +0.9%. Nasdaq +0.5%. Crude +0.4% to $74.87. Gold +1% to $1,100.40.
Monday's Economic Calendar
10:00 Existing Home Sales10:30 Dallas Fed Manufacturing Outlook
Notable earnings before Monday's open: AKS, DGX, ERIC, ETN, HAL, PHG, PVTB, SEE
Notable earnings after Monday's close: AAPL, AMGN, ATHR, JEC, OLN, PKG, SLG, TXN, VMW, ZION
Seeking Alpha editors Eli Hoffmann and Jason Aycock contributed to this post.Complete Story »