Myths of 1996
I don't want to object too strenuously to anything Bruce Reed says in this column, but I do think that veterans of the Clinton White House have a tendency to overstate the role of tactical political shifts in their post-1994 success:
Finally, Democrats should remember that a party willing to take voters' lessons to heart has the chance to build a strong, more enduring bond with the electorate because of it. In 1994, Bill Clinton took the voters' message as a directive to govern the way he campaigned and be the president he was elected to be, not the president Congress wanted him to be.
The main point I would make about this is just that there wasn't very much volition involved in Clinton's rightward turn after the midterms. When the pivot points in congress take a dramatic leap to the right, it's simply not possible to push aggressive progressive policies. Second, Clinton's later success is easily explained in terms of the economic expansion: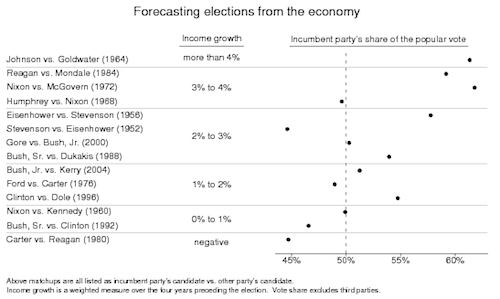 The question you have to ask is whether there's anything Clinton did post-midterms that was centrist in some way he wasn't in his first 2 years that significantly contributed to good macroeconomic performance? I think you could plausible argue that both the 1993 budget deal and NAFTA helped spur growth in the 1990s, but those happened before the turn toward triangulation.
By the same token, a lot of the same applies to left-wing critics of Clinton. With Newt Gingrich in the Speaker's chair what can you do? Given a sharply restricted ability to make big progressive change, managing the country's domestic and international affairs responsibly while trying to advance small positive change on a bunch of different fronts is the best you can do. And it's what he did. The alternative is to do what Bush did after 2006 and basically just stop doing anything at all until all of a sudden the world economy is on the brink of collapse.