How holds make it impossible to fire Tim Geithner (or anyone else)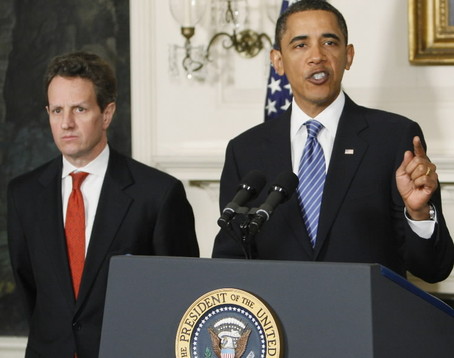 When it comes to absurd Senate customs, the filibuster isn't even the worst of the lot. That honor goes to holds, which, like the filibuster, are being used with a new ferocity. Annie Lowrey tallied up the numbers and found that "one year into the Bush administration, there were 70 appointees awaiting confirmation. One year into the Obama administration, there are 177."
A little-noticed side effect of holds is that they reduce government accountability. There are 20 Treasury nominees awaiting confirmation. And that's amidst the worst financial crisis since the Great Depression. Consider the implications of that, and not just in the performance of the Treasury Department. Many people -- both Democrats and Republicans -- want Obama to fire Geithner, or some of the people who work for him. But the chance of that happening is approximately zero so long as Obama can't be confident in his ability to smoothly fill that position. If you can't hire new people, then you can't get rid of old people.
For a full list of held administration appointees, head here.
Photo credit: By Charles Dharapak/Associated Press