German Trade Strong Despite Euro Strength
Individual Global Investor submits:Trade figures for the month of November were released by many of the industrialized nations this week. While the globally picture is one of a gradual recovery, German trade appears to be coming back more quickly than others. Some themes are common ones. Germany, along with Japan and Mexico are seeing growing trade surpluses on shipments of manufactured goods to the U.S. The U.S. trade deficit is growing. Other themes are not so common. Chinese import growth is outpacing exports and resource economies like Canada and Australia are struggling to return to trade surpluses. Amidst this otherwise-mixed bag of data, Germany stands out with trade surpluses that rival those of the 2008 peak in global trade.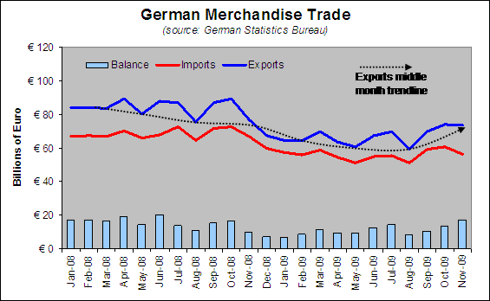 German exports are up strongly in October and November. The trade balance of German goods hit 17.4 billion euros in the month of November. This was the second largest trade surplus in the last two years; only in June 2008 was it higher. German exports, like those of Japan, have a very specific pattern depending what month of the quarter it is. The middle month tends to be the weakest of the three. Yet exports posted a strong showing to 73.7 billion euros for November – a middle month. This was up 24% over August. Most of that strength comes from trading outside of the Euro Zone. China recently announced substantial gains in exports and imports, claiming to overtake Germany as the world's top exporter. At the same time it is trading in its hoard of U.S. dollars for imported products at a record pace. However, with little more than headline data on trade available out of China, it is tough to ascertain the underlying dynamics and their sustainability.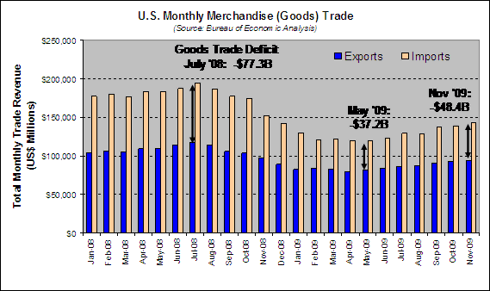 Germany's surplus growth comes at the expense of others … like the U.S. Trade figures out of the United States show a steady increase in overall trade. However, with this comes a return to trade deficit growth. The deficit that the U.S. runs with Germany (the fourth largest this year after China, Japan, and Mexico) grew to $3.2 billion in the month. Ironically, U.S. trade deficit with China narrowed about 10% from October as products from China were seasonally weak but U.S. exports into China surged. Even if this was more than a one time occurrence, the deficit with China is still above $20B/month, dwarfing deficits with other countries. The U.S. deficit growth is about half related to crude oil imports and about half related to other factors, like manufactured goods. Mexico and Japan join Germany in benefiting from the manufacturing dynamic. It is almost as if the rules of macro economics we learned in school no longer apply. Both Germany and Japan are supposedly suffering from strong currencies. Yet their position relative to the U.S. continues to improve.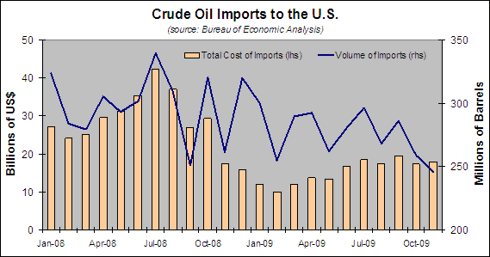 Higher oil prices are driving deficit growth. As for the half of the U.S. deficit growth related to energy imports, it is clearly price, not the amount of imports, which is 'fueling' its deficit problems. In November, despite a recovering economy, the U.S. imported less oil than it has in two years at 245 million barrels. Even in September 2008 during the depths of the financial crisis the U.S. imported more oil than it did in November of 2009. However, since last February the price of a barrel of crude oil has crept up an average of $3.70 each month. The volume of crude oil that the United States must import has been in a multi-year decline. In addition to reduced demand, elevated energy prices have brought new domestic supply to the market. According to the Department of Energy, since the beginning of 2006 consumption of oil in the 50 United States is down 10% yet the production from that same region is up roughly 10%. The deficit will swing widely based on what the U.S. pays for this oil, though.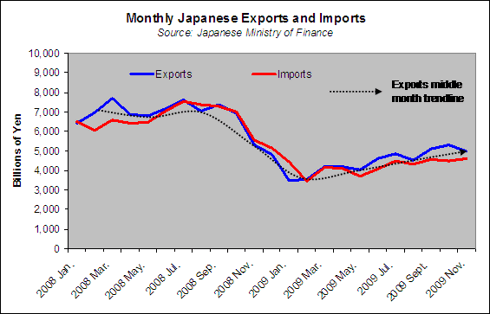 Japan is back on a path of sustained trade surplus. Japanese trade figures show a shallow but steady recovery for the last nine months. As described last month, much of that can be credited to the bottoming of the automobile market. This market in the U.S. may never return to the euphoric days of 2007 when the annual pace cars sold approached 17 million vehicles. As such I would not expect a return any time soon to early 2008 export levels for Japan. Yet we have found a bottom and there is an upward trajectory to volumes.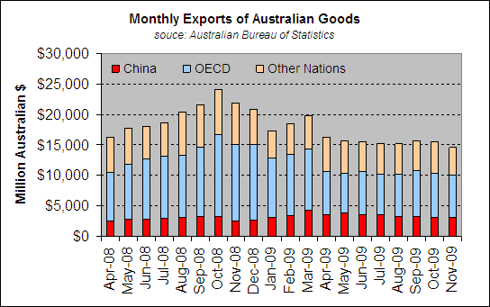 Resource countries like Australia are seeing stagnant export growth. Surprisingly, one country whose exports are not in an upward trend is Australia. The country by and large skirted the Great Recession thanks to its trade links with China. The China commodity stockpiling story play out during the first half of 2009 but total exports from Australia to China have been in a fairly steady decline since the last March. Canada is in a similar predicament as it struggles to regain its trade surplus. Canadian energy related exports have rebounded 30% from their monthly lows last year. At least in the case of Canada, trade is growing, just not in a way that returns it to surpluses, which in were measured in the many billions of dollars each month. Almost wherever we look we are seeing increasing trade volumes, which is a good sign for the overall health of the global economy. China remains the big exporter and the United States the big importer. Below the surface is a series of more subtle story, the most interesting of which is probably Germany.Disclosure: No PositionsComplete Story »