Use your debit card!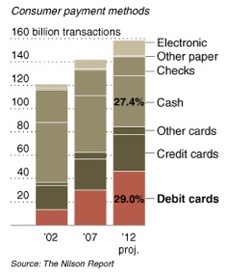 Ever wondered how your Visa card works? Andrew Martin has you covered:
While Visa may be among the best-known brands in the world, how it operates is a mystery to many consumers.
Visa does not distribute credit or debit cards, nor does it provide credit so consumers can buy flat-screen televisions or a Starbucks latte. Those tasks are left to the banks, which owned Visa until it went public in 2008.
Instead, Visa provides an electronic network that acts like a tollbooth, processing the transaction between merchants and banks and collecting a fee that averages 5 or 6 cents every time. For the financial year ended in June, Visa handled 40 billion transactions. Banks that issue Visa cards also pay a separate licensing fee, based on payment volume. MasterCard, which is roughly half the size of Visa, uses a similar model.
Given that a credit card transactions cost a store a bit of money while a debit card transaction costs a lot less, I've always wondered why there's not a more aggressive effort to push consumers toward their debit cards. Ikea, for instance, does this by promising you a coupon for a percentage off your next purchase, which is brilliant, given that virtually no one saves a coupon for a single percentage point of their next purchase at a store they rarely patronize. But the little supermarket in my neighborhood doesn't even mention that it has a preference, nor do most companies.
Image credit: New York Times