Wall Street Breakfast: Must-Know News
SA Editor Eli Hoffmann submits: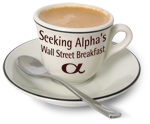 Wave goodbye to record low mortgage rates. Government-sponsored mortgage lender Freddie Mac says it's time to lock in mortgage rates. Once the Fed halts its program to soak up mortgage-backed securities, private buyers are going to demand a higher rate of return, which will drive 30-year fixed rates above 6% by the end of 2010, if not sooner. The Fed believes that by gradually ending its purchases, private buyers will return to the market and keep rates in line. But Freddie Mac economists think interest rates will rise as private buyers will demand a higher rate of return, and lenders raise rates to consumers in order to make that happen.
Investors watch airline stocks after scare. Redoubled security measures could hurt airline revenues following a botched attempt to blow up a NWA airliner on Christmas Day. Passengers will likely face longer wait times at checkpoints, and business travelers may think twice before flying if stepped-up security means spending hours at the airport. But CreditSight's Roger King said Wall Street would more likely focus on the recent rise in travel spending than the security breach which, while unsettling, is fairly standard for the industry. Since midyear, shares of UAL (UAUA) have more than tripled, and shares of AMR (AMR) and Continental (CAL) have about doubled.
In the end, shoppers come through. A late spending spree by last-minute shoppers and an extra day of shopping between Thanksgiving and Christmas boosted total retail sales 3.6% through Christmas Eve, according to MasterCard's SpendingPulse. Retailers are increasingly confident that 2009 was a marked improvement over 2008, when consumers shunned everything but essentials and stores slashed prices. This year, store owners say they offered fewer discounts and managed to keep prices relatively steady. As predicted, online sales notched relatively strong 15.5% growth.
State Street loses $60M Lehman case. A Dutch court awarded Dutch pharmaceuticals firm Mediq €40M in a lawsuit against State Street (STT), which lost Mediq's money after turning it over to Lehman Brothers to manage. The court ruled State Street was obligated to protect its client's funds from bankruptcy risks.
Japan factory output jumps. Japan factory output climbe 2.6% in November, the ninth consecutive rise, driven by strong exports and domestic subsidies. The Nikkei closed at a four-month high in reaction to the data, which beat consensus estimates of 2.4%, and on optimism over a weakening yen. The data will likely reinforce expectations that a global economic recovery could help prevent Japan from sliding back into recession after two straight quarters of growth. (ETF: EWJ)
Chinese factories return to profits. Profits at Chinese industrial companies rose 7.8% through November, reversing a 10.6% drop in the previous survey and ending a year of declines. The sharp rebound offers clear evidence of a stronger recovery for China's businesses, led by gains in energy and natural resources sectors. In an interview with Xinhua Monday, Chinese Premier Wen Jiabao said Beijing will take steps to stop the sharp rise in real-estate prices, and that Beijing will resist pressure from other countries to revalue the yuan, fueling a 1.5% gain in Shanghai. (ETFs: FXI, PJG)
Mega movie sales. Box office receipts shattered previous records, with Americans spending an estimated $278M over the three-day Christmas weekend. Science-fiction epic Avatar (NWS) led with $75M in sales, fueled by strong sales at large-screen Imax (IMAX) locations. The movie, which cost more than $300M to produce and another $150M to market, has already tallied global sales of $617M. The debut of Sherlock Holmes (TWX) brought in $24.9M, a record for a Christmas Day debut. Third place for the weekend went to Alvin and the Chipmunks: The Squeakquel (NWS), at $50.2M.
Recession hits the court system. The legal fallout from the Great Recession may be just beginning, as recession-related cases begin to flood state courts in New York and across the nation. In New York, likely a sign of what awaits other states, contract disputes are seen up 9%; foreclosure filings increased 17%; assault by family members rose 18%; and lesser violations were up 18%. Judges and lawyers say the number of lawsuits are often a barometer of bad times, and that courts would be working through the recession's consequences for years.
RBS looks to offload £3B in assets. Sources say Royal Bank of Scotland (RBS) is looking to sell about £3B ($4.8B) worth of assets in coming months. RBS is nearing the sale of its India banking business to HSBC (HBC), and is in final talks over the sale of its asset-management business. Potential bidders for its 51% stake in the high-profile Sempra Commodities metals JV, for which RBS hopes to fetch £2.5B, include JPMorgan (JPM), Deutsche Bank (DB) and Macquarie.
UBS whistleblower ready to talk again. The informant who helped the IRS build a landmark case against UBS (UBS) has asked the courts to postpone his prison term, saying he's "ready, willing and able" to assist the government in prosecuting additional UBS clients. The Treasury loses an estimated $100B/year to offshore tax evasion.
Today's MarketsOverseas markets moved higher Monday, led by strong economic readings in Japan and China. Stock futures are up a bit, and Treasurys are lower.Complete Story »