John Kerry's post-non-presidency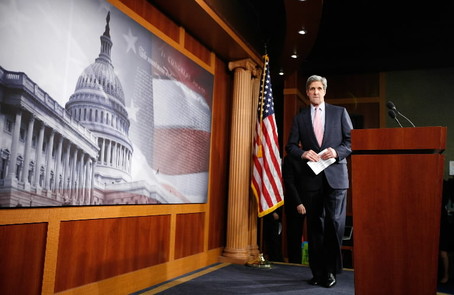 Since so much of the attention goes to the hostage-takers lately, I've been trying to highlight the quiet work of the folks who've been steadily, quietly improving the bill throughout the process, and who haven't done the screaming that would assure them recognition. My earlier post on prudential purchasing, and Gail Collins's column today, reminds me to add John Kerry to that roll call. Here's Collins:
I frequently made fun of Kerry for being a terrible presidential candidate. Which he was. But there comes a point when we the people have to move on. And Kerry has been a really good former failed presidential candidate. He's been working hard in the Senate on climate control and trying to help the White House on foreign relations, despite the fact that Barack Obama stiffed him out of the secretary of state job in favor of a person who had been somewhat less supportive than Kerry of Obama's early presidential aspirations. He actually seems more interested in doing stuff than being admired.
The same goes for health care. The prudential purchasing, which may be the best thing about the exchanges, came from his shop. So too did the excise tax on high-value health insurance. Kerry has been very quiet on the politics of all this -- much more so than Rockefeller and Schumer and others -- but he's been very important to the policy. And while I'm on the subject of Collins's column, I liked this conclusion:
Let's look at our two failed-national-candidate models. You can move on, and try to make yourself useful (Kerry, Al Gore). Or you can work out barely suppressed rage by attacking things that you used to be for, like trying to control Medicare costs (McCain) or expanding Medicare eligibility (Lieberman).
Maybe the difference comes from self-image. Lieberman and McCain both thought of themselves as "character" candidates whose success was due to the love and trust of the public, and whose ultimate failure was the work of evil forces beyond their control. Kerry and Gore never believed their success was due to their innate likeability. When they lost the presidency, a part of them probably shrugged and remembered that they weren't all that popular in prep school, either.
I'd like a moratorium on efforts to explain presidential candidates through their high school experiences, but as a general point, I think Collins is onto something.
Photo credit: By Alex Wong/Getty Images