The 150,000-life health-care plan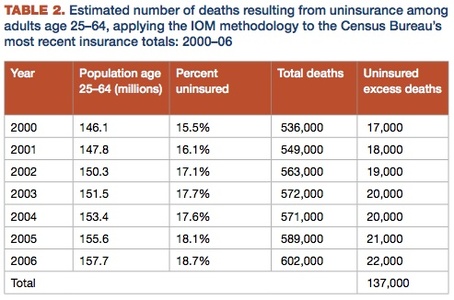 By now, you're probably used to hearing about the $900 billion health-care bill. But what about the 150,000-life health-care bill?
Oddly, that label hasn't made its way into the conversation. But it is, if anything, a conservative estimate. The Institute of Medicine developed a detailed methodology for projecting the lives lost due to lack of insurance. The original paper estimated that 18,000 lives were lost in 2000, and the Urban Institute updated that analysis with data for 2006, yielding an estimate of 22,000 lives. As for 150,000, well, that's almost certainly too low. That's just the 2006 number across 10 years, which is the time frame we generally use for health care, with a third of the lives saved lopped off, as we're not going to cover all of the uninsured. But since the population of the uninsured grows every year, and so does the death toll, it would surely be higher. So call it the 150,000-plus-life health-care plan.
We're very comfortable talking about the financial cost of health-care reform. We're less comfortable talking about the human benefits. But the fact that health insurance saves lives isn't controversial. A 2003 study examining cancer records from Kentucky found that uninsured women with breast cancer were 44 percent likelier to die than their insured counterparts. And that was after controlling for demographics, stage of diagnosis and initial treatment. A 2007 study found that the uninsured were 24 percent to 56 percent likelier to die of stroke, depending on the type. That study, too, controlled for all the relevant variables. Other studies have examined the issue more generally, using all manner of data sets and controlling all manner of variables. The Urban Institute's report summarizes a number of the papers.
All this is intuitive. The uninsured are less likely to seek early care. They are less likely to get good care. They are less likely to return for follow-up care. They are less likely to be able to afford the maintenance of chronic conditions. At its most basic level, that's what this is all about. That's why people have been fighting for universal health care for almost a century now. That's why this matters, and why the basics of the bill -- subsidized access to health-care insurance -- are so terribly important. This is life and, well, death. Lots of it, in fact.
But we don't like to talk about it that way. Occasionally, people justify this methodologically: It's too hard, they say, to know exactly how many people die because they don't have access to health insurance. But projecting the cost of the bill is no easier, or more certain, and yet we use those numbers with impunity.
In reality, people don't like to talk about health-care reform in terms of lives because it seems, on some level, unfair. It sounds almost like an accusation of murder. That's common rhetoric when talking about wars but not social policy.
But it isn't an accusation of murder. It's a statement of benefits. And there are iterations in which the costs could outweigh the benefits: The money could do much more good elsewhere, say, or the regulations would thoroughly impede medical innovation. That's an argument worth having, but it should be had. As it is, we talk about the costs in very specific terms and the benefits in very abstract terms. That biases the discussion toward the opposition and against, well, the 150,000 or so people whose lives would be saved by by this bill.
Which is a bit strange, in the scheme of things. Medicare saved lives. Medicaid saved lives. The health-care coverage that costs the average worker more than $13,000 saves lives. That's why we shoulder these expenses. And health-care reform will save lives, too. That's why we're doing it. That's why we're thinking of spending $900 billion on it. And those who would be so cavalier as to close the door because of the public option, or the Medicare buy-in, or the absence of either thing, should think long and hard about those numbers.
I could imagine a cost-benefit analysis that judges the whole bill worth it, or the whole bill not worth it. But it is very, very hard to imagine a cost-benefit analysis in which small policies operating on the margins and promising to save small-but-measurable amounts of money are worth more, in either direction, than the hundreds of thousands of people who will be saved -- not to mention spared bankruptcy, and lifted from chronic pain or impairment -- by the rest of the bill. The areas of controversy have become very slight given the magnitude of the underlying bill.