Did Clinton have it easy?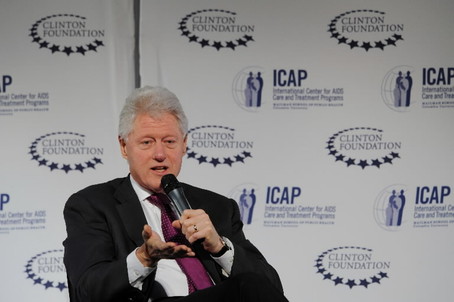 Noam Scheiber compares the task facing deficit hawks in 2009 to the task facing deficit hawks in 1993:
The decision about whether to rein in the bulging deficit or spend money on the rickety economy divided the incoming Clinton team. But, in retrospect, the challenge was much easier than the one confronting Obama. For one thing, GDP had been growing for almost two years in early 1993, versus only a single quarter today; unemployment was almost three points lower. For another, the deficit was actually far more tractable back then. The end of the cold war promised a peace dividend, and the bill for the baby boomers' Social Security and Medicare benefits was basically 20 to 25 years away. Today, the entitlement spending boom is right around the corner, we're surging in Afghanistan, we've spent a few hundred billion dollars propping up the financial system, and we already have one pricey stimulus on the books.
One point that doesn't get very well explained in these arguments is that it's easier to cut the deficit when the economy is growing. To put it in the simplest terms, recessions mean the government gets less money because people are poorer and pay less in taxes, and spends more money because people are poorer and need more help. Expansions are the reverse: The government gets more and can spend less.
As Noam goes on to explain, one of the difficulties facing the Obama team is that it was a lot easier to see how to kick-start the economy in 1993 than in 2009. Interest rates were high, which meant it was hard for the private sector to borrow, invest and grow. Happily, lowering them proved a pretty straightforward process, and the economy took off on schedule. Even better, quickening economic growth was functionally the same thing as reducing the deficit: You lowered interest rates by cutting government borrowing.
Not so today. Interest rates are dead low and the economy is nearly unconscious. The only stimulative option left requires borrowing or printing money. Congress and the Federal Reserve both seem loath to do that, but that means the economy won't grow much and deficit reduction will be virtually impossible. We'll be left with the worst of both worlds: a serious deficit problem and a bad economy.
The compromise people are hoping to strike is more spending now attached to credible commitments to cut the deficit later, but the problem is that the obstacle to more spending now is not insufficient confidence that Democrats will cut the deficit later, but Republicans and conservative Democrats who think their political interests are served by permitting double-digit unemployment for the foreseeable future. In other words, the compromise that people want to strike is a compromise with the bond markets, not with the relevant legislators. And bond markets, powerful as they might be, do not have votes in the Senate.
Photo credit: By Stan Honda/Getty Images