Overcapacity in China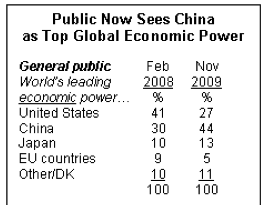 I'm with Minxin Pei and John Judis in thinking that China overtaking the United States as the leading global power is much more of a remote scenario that people seem to realize. That said, on the list of looking Chinese problems I don't think "the creation of industrial overcapacity relative to domestic demand (which has not risen proportionately) and foreign demand (which remains stalled by the ongoing slump)" makes a ton of sense.
Consider, for example, James Fallows' refutation of the American public's ignorant belief that China is now the world's leading economic power:
You could address this point with, you know, "facts." Almost no one in the United States is a peasant farmer. Most people in China are. Nearly everyone in America has indoor plumbing. Most people in China don't. Japan has one-tenth as many people as China, yet its economy is larger — the second largest in the world. America's is of course largest of all, three times larger than Japan's and about four times larger than China's. Name 20 large American corporations that do business worldwide. Without trying, you can probably name 50. Try to name even 10 from China. Name the most recent winner of a Nobel prize in science from a Chinese university or research institution. (Hint: this is a trick question.)
But visual aids may somehow convey messages that "facts" don't get across. Toward that end, it's worth checking out a much-circulated recent post on the ChinaSmack blog — a site that translates popular Chinese posts into English. It's about practical living circumstances in a Beijing elite university district. Here's a sample photo: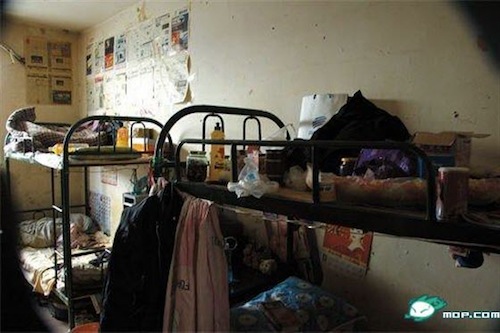 Under these circumstances of widespread impoverished, what could "overproduction" really mean as anything other than a transitional problem? In the United States, most people already have a lot of consumer goods so you can imagine some kind of situation in which consumers are "sated" and just don't want more cars or iPods or plasma TVs at the rate we're capable of producing them, at least until someone invents some cool new kins of stuff. But Chinese people do not have a lot of consumer goods. They don't even have indoor plumbing! For a while now, China has been producing way more stuff than Chinese people consume because people in the developed world, with our high incomes and access to credit, have been able to outbid super-poor Chinese people for the world's supply of iPods and plasma TVs and flush toilets and dorm room furniture. But insofar as China is able to build more stuff than developed world people want to buy, there are like a billion Chinese people who could use it.