Honesty is the Best Policy for Trade
Paul Krugman notes a seriously dumb Washington Post editorial arguing that if Obama really wants to create jobs he should press harder for ratification of free trade deals with South Korea and Colombia.
I think the first thing to note about this is that if you compare the U.S. economy and the Colombian economy, you'll quickly see that it's absurd to think that U.S. policy toward Colombia could possibly have a large impact on the United States: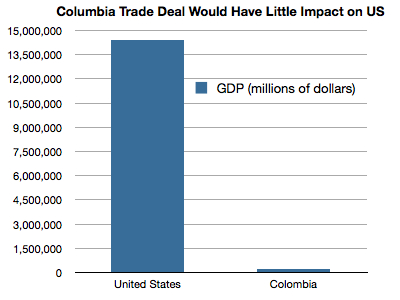 More broadly, as Krugman notes there's just no reason to believe that trade agreements of any kind have a real impact on the aggregate employment level. The case for free trade is that when two countries lower trade barriers average living standards increase in both countries. But this has nothing to do with the unemployment rate. The 2009 version of the United States of America is much richer than the 1959 version, but it also has a higher unemployment rate. Spain has more unemployment than China, but China is much poorer than Spain.
Ultimately, I think this kind of double-talk from proponents of reducing trade barriers does the cause no good. The case for free trade is strong on the merits and ought to be made correctly. Making unrealistic promises about the jobs impact of trade deals, as was done before NAFTA, spurs feelings of backlash and betrayal. Probably the biggest public misunderstanding about things like the Colombia deal, and CAFTA before it, is simply that arrangements with these kinds of small, poor countries are barely noticeable in their impact on the United States. Making it easier for Colombians to sell goods to Americans will be a big help to Colombian exporters (our country is big and rich) and helping Colombia advances various U.S. strategic and humanitarian objectives, but as economic policy it's about the same as doing nothing.
Meanwhile, though, we have ten percent unemployment and really need some serious economic policy! If the Post likes free trade, it's really not going to like the trade policy consequences of years and years and massive structural unemployment.