The Phantom Menace of Cost-Shifting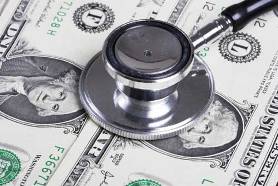 Medicare doesn't pay hospitals and doctors as much as private insurance does. Hospitals and doctors don't like that. They want to get paid more. Which is understandable. In addition to my main job here at CAPAF, I also write columns regularly for The Daily Beast and The American Prospect Online. I won't go into specifics, but one of these fine online journalism outfits pays me 67% more per column than the other. Naturally, I wish the stingier publication would reimburse me at the higher rate. But they don't see it that way.
But in addition to raw greed, providers make another argument. They say that Medicare's low reimbursement rates "shift costs" onto private insurance. In other words, if Medicare paid them more, they were lower the fees they charge to private insurers. This has never made a great deal of sense to me. To extend the columnist analogy, suppose I called up my editor at the stingier publication and said I would quit unless she raised my fee to 80% of which the more generous publication pays. Suppose she agrees. Am I going to turn around then, call up my editor at the more generous publication, and then go offer to cut my fee? Well, no, I'm not. The negotiations occur independently of one another. There's a certain price floor beneath which it's not worth my while to write a column. And there's a certain price ceiling above which it's not worth an editor's while to pay for a column. That creates a range of mutually beneficial freelance fees on which the editor and I might converge. If I do a good job of bargaining, I get a sum at the high end of the range and if I do a bad job of bargaining I get a sum at the low end of the range. But I'm not going to agree to a below-floor deal and then "cost-shift" onto the other publication.
So that's my theoretical argument. The real world is going to be messier than that, so I wouldn't be shocked to learn that a little cost-shifting is happening but this can't possibly be the primarily impact of Medicare's stingy rates. If hospitals are accepting Medicare patients, that's because it's profitable for them to do it.
That's theory. What about reality. Well, Austin Frakt has a post up discussing the empirical results of Vivian Wu's study "Hospital Cost Shifting Revisited". The headline result is that cost-shifting happens, but at a much lower rate—21 percent—than industry says "this 21% rate of cost shift is about half of the lowest estimates produced by industry studies and is far below their common assumptions of 50% to 100%." What's more, cost-shifting seems to exist primarily because many hospitals operate (unlike mid-level online political pundits) in an uncompetitive market:
The policy implications are clear. Wu doesn't state them, but I will. Within the range of variation studied by Wu, with respect to hospital payments, overall health costs can be reduced by 79 cents per dollar of Medicare payment reduction, the other 21 cents being shifted to the private sector. However, the more competitive the hospital market the less the cost shift. For some hospitals in some markets Wu found cost shifting rates as low as 5%. Therefore, sound public policy would encourage greater competition among providers (wherever possible) in tandem with reductions in public payments. Doing both concurrently would reduce public health expenditures with minimal impact on private payments.
In other words, cost-shifting is not a big problem. It happens, but only a little, on net lots of money is saved. Hospitals don't like stingy public programs because they reduce the extent of their surplus, not out of broad-minded concern for market balance. And as you would expect, the more competitive the market, the more the impact of hard-bargaining is a reduction in the producer surplus.