The New Health Care Deal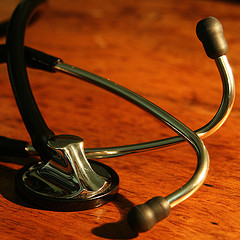 Stroll on over to this Igor Volsky Wonk Room post for your explanation of the latest public option compromise. Before I delve in, I think it's worth stepping back.
The original public option was for a "public option modeled on Medicare." Which is to say you would create a program that was linked to Medicare's operations, but instead of getting it for free you would need to pay premiums to use it (with subsidies available of course). If this could be enacted, it would be a huge deal and do an enormous amount of good. But it very quickly became clear that the votes simply weren't there for such a public option, even in the House. So two critical compromises were made. One was to limit the public option to people buying insurance through the exchange. Which means that if you get insurance through your employer or your spouse's employer—as most people do—there's no public option for you. The other was to de-link the public option from Medicare. Initially it looked like there might be some room for compromise on an idea like Medicare + 5% or +10% but that had to be given away to get the public option through the House.
Consequently, what the Senate has been negotiating over is the availability of a not-so-hot public option. Still better than nothing, but not transformative, not a game-changer. The Senate's deal has watered this down even further, involving a sort-of co-op idea plus a triggered public option under circumstances where it'll be very difficult to ever pull the trigger. Disappointing.
But there's an important ray of hope here: The compromise will allow people to buy into Medicare. This, in essence, is a version of the original public option idea from before it got watered-down—a nationwide program linked to Medicare. The bad news is that the availability of the buy-in will be limited. People under the age of 55 won't be able to buy in. And buy-ins will be limited to people on the exchange. As Chris Bowers points out this means the expansion won't impact very many people "this public option 'compromise' would only cover 1.08 million Americans, or only about 25-33% of what the opt-out public option would have done."
That's correct. But there's an important caveat to that. Anything limited to the exchange won't impact most Americans very much even when reform goes online in 2014. But the exchanges will get much bigger over time. Part of what's going on in the United States is that the employer-based health insurance system is slowly unraveling. Both the House and Senate versions of reform consist not only of using exchanges to cover the currently uninsured, but also using exchanges to construct a kind of safety net so that as employer-based insurance continues to unravel, people will land softly in exchangeland rather than crashing into the rough ground of the current individual insurance market. The Senate bill will slightly accelerate the decline of employer-based insurance by slowly phasing out the tax subsidy for such insurance.
Which is to say that Bowers is right to argue that "the next play should not be to fight to save the opt-out, 'level playing field' public option, but rather to expand the Medicare buy-in to all Americans between the age of 55 and 64 (inclusive)" but it's important to note that in the long run this is what's going to happen anyway since over time more-and-more people will be in the exchange. So in addition to pushing for expansion of the buy-in to people outside the exchange, it's also worth pushing for accelerated opening of the exchange to more-and-more people. In the long run, of course, it'll also be necessary to fight for further lowering of the age threshold.