Getting Parking Policy Right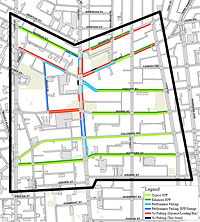 It's a bit frustrating sometimes that the only people who seem interested in reforming parking meter policy are generally car-skeptical urbanist types like me. My interest in this, after all, is a bit second-order* whereas people who actually drive cars around all the time have a strong interest in getting this right. What does getting it right mean? Well, the basic insight is that supply and demand apply to parking. Making parking cheap somewhere where lots of people want to park doesn't actually make cheap parking widely available—it just creates a parking shortage. What you want is a fee high enough so that there are usually empty spaces available. The target experts agree on is 85 percent occupancy. If occupancy rates are higher than that, you need higher prices, not as a punitive anti-driver measure to make sure that people who really want to park on that bock can.
But you need to get your definitions right. For example, DDOT has decided it should raise rates on three blocks in Columbia Heights where average occupancy exceeds 85 percent. As Michael Perkins writes this is mighty crude since demand varies across the time of day:
If the goal of performance parking is to ensure that a space on every block is always available to people that are arriving to the area, then reporting average occupancy rates doesn't do much good, because overcrowded parking at one time could be balanced by empty parking at another time. And empty spaces at 10 am don't help people who are looking for spaces at 6 pm.
All six blocks had some time periods over 85%; according to the report, the maximum utilization on all six blocks ranged from 110% to 190%. (Maximum utilization can exceed 100% when people park extra-tightly, use very small cars, and/or park illegally.) But we also don't know if those high utilizations were only one hour of one day, or common every day at a certain busy hour.
Getting all this data together, then implementing it, then getting people used to variable pricing is all kind of a hassle. That said, once you get a system up and running that does a decent job of matching pricing to demand there will be long, enduring benefits. Not only will it be easier for people to park, but the government will get much more revenue and can thus have lower taxes. What's more, everyone who's not trying to park will have fewer people circling the block to deal with.
* The basic urbanist hope is that if we can learn to manage parking spaces better there won't be these constant demands to build more parking everywhere or to refuse to build any new buildings because it might adversely impact other people's parking.