Does Medicare Disadvantage Rural Areas?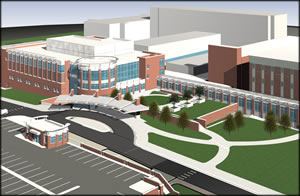 Brian Beutler's item wherein Jay Rockefeller disses Kent Conrad is pretty funny. Conrad raised some objections to the idea of letting people aged 55-65 to buy into Medicare, and then:
"I'm really very tired of hearing about that from him," an exasperated Rockefeller told reporters. "And it's always about North Dakota, and it's never about any other part of the country. And I thought, you know, that's what we're trying to do–we're trying to do the best thing for the country as a whole."
This is a totally fair complaint. If we're going to have two different houses of congress, I think it would make sense to elect one of them on some non-geographical basis so as to cut down on the level of parochialism. And if we're going to have geographically based representation, it ought to be done fairly, not with a system that lets North Dakota have much more representation than Los Angeles County which has 15 times the population. And if we're going to have an unfair system, it would be nice to at least see some more high-mindedness from the people representing the giant empty square states.
All that said, there's a real issue here that's been lurking in the background of a lot of these health reform debates. The system Medicare uses to determine how much money doctors and hospitals get for treating patients contains a heavy geographical component. In other words, the same procedure gets a different level of payment depending on where it happens. Not surprisingly, the political result of this is that everyone is perpetually convinced that their area is underpaid. And in particular, politicians from rural areas believe very strongly that Medicare is underpaying their health care providers.
But is this actually true? I've been trying to figure it out for months and . . . it's hard to say. This post on the Health Beat Blog is an excellent primer on how Medicare payment works. But merely knowing the facts doesn't really answer the question. That's because a big part of the issue is a somewhat normative dispute over what we should be trying to accomplish with our policy. In general, the costs of things are lower in rural areas. But when you get into highly specialized medical care, it's very inefficient to try to provide them in low-density areas. This is why hospitals are generally clustered in central cities. And for people who live in low-density portions of metropolitan areas, the fact that you might need to travel a ways to get specialized medical care isn't such a big problem—you're more concerned about getting treated than about the long commute.
But in large swathes of the United States, there's just no major urban area anywhere even vaguely nearby. Washburn, ND is four hours from Fargo and almost eight hours from Minneapolis. Naturally, people who live in rural areas would like as wide a range of services available to them as possible. So to them an appropriate reimbursement rate is one which is high enough to attract such a level of provider-capacity, and anything that falls short of that constitutes "underpayment." But from a metropolitan perspective, that's backwards. It's just that like how you don't see art house movie theaters in rural areas, it's not possible for provision of certain services to be viable in some places without overpaying to specially subsidize them.