Efficiency trap
We all believe the savings are there to be had. We just don't trust the government to find them.
That is one big reason why politicians announcing a big push on efficiency savings will seldom win a lot of a points with the public.
The other reason - and there's no polite way to say this - is that the more genuine the savings are, the more boring they are likely to be.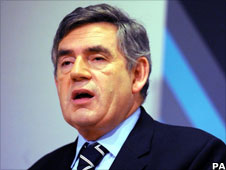 You know the drill. We hear a headline number - like the £3bn in new savings over three years trumpeted by the prime minister this morning - and we say; "ah, politicians have promised that kind of thing before. Tell us how, exactly, you're going to do it."
But then, heaven forfend they actually do. We're asleep in five minutes. We wake up at the end declaring we've "heard it all before".
I'm exaggerating. But veterans of past efficiency campaigns will recognise the basic pattern.
There's a three-page list of detailed proposals in the 70-page report released by Gordon Brown this morning [555KB PDF].
I'm sure you will all rush to read it, but in case you don't, the plans range from a blunt promise to "reduce consultancy spend by 50%" to more esoteric items, like ensuring that "all overseas staff are supported by shared services provided through a single platform".
Some, like the promise to halve consultancy spending, look more likely to save money than others (p64: "arrange an international conference to share best practice on smarter government...").
But the hard truth is that, even if implemented, you will never be sure that any of these measures saved the government cash. Why? Because of Stephanomics' old friend, the curse of the counter-factual.
Sure, it's easy, in four years' time, to establish whether central government is spending less on consultants. But it will be almost impossible to prove it's spending taxpayers' money more wisely as a result.
It's an unfashionable thought, but some of that outside expertise might, just might, have helped departments to spend less overall. We will never know.
The government's first efficiency drive, initiated by Sir Peter Gershon's review in 2004, aimed to find £21.5bn in savings by 2007. In the end, the government claims to have saved £26.5bn over that time (Gordon Brown repeated the claim this morning).
But, as I said on the Today programme this morning, the National Audit Office assessed the programme when it was part-way through, and found that only about a quarter - 26% - of the £13.3bn in savings then being claimed by departments were "fairly represent efficiencies made". Just over half - 51% - "represent efficiency but carry some measurement issues and uncertainties"; and 23% "may represent efficiency, but the measures used either do not yet demonstrate it or the reported gains may be substantially incorrect."
To translate: one quarter of the savings were the real thing, a quarter were downright dodgy, and the remainder were somewhere in between.
When the report came out in early 2007, critics of the government understandably pounced on it as evidence that the entire exercise had been a scam.
Given how often the £26.5bn figure is trotted out by ministers, it's a shame that the NAO has not done a final audit of the Gershon programme.
However, another report would face the same basic curse. It's hard to prove you've "saved" money if, by definition, that money wasn't ever spent - or, more likely, it was spent on something else.
That is why the next round of efficiency savings will be a bit different than the ones that came before. Unlike the previous ones, they won't be about getting more value for money out of an expanding budget pie. They'll be about making the shrinking of the pie less painful for frontline services than it might otherwise be.
After the next election it's going to be much easier for ministers to convince voters that they are spending less: whoever is in power, the evidence will be there for all to see in the shape of shrinking department budgets. The challenge will be convincing us that the "right" things are being shrunk.