More Clarity Needed on Af/Pak Linkages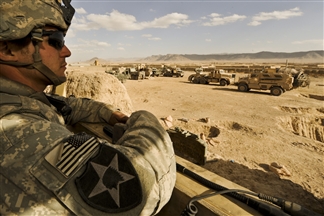 One of the frustrating things about the Afghanistan surge debate in the United States is that it's often difficult to pin people down as to exactly how it is they think they're preferred approach to Afghanistan will contribute to Pakistani stability. Complicating this is that there are a number of different organizations fitting under the umbrella term "Taliban" and while they have a lot in common, one point of difference is specifically their relationship with Pakistan. As my CAP colleague Brian Katulis explains:
The United States has accused Pakistan of maintaining ties and offering support to groups such as the Quetta Shura Taliban, the Haqqani network, and Hezb-e-Islami Gulbuddin — which all play roles in the insurgency in Afghanistan. These groups are different from extremist groups like Tehrik-e-Taliban Pakistan, which have been behind the increased violence targeting civilians and military installations alike inside of Pakistan.
In the murky world of northwest Pakistan, the dividing line between the Afghan Taliban and the Pakistani Taliban isn't always clear, but the main point is that one set of groups has received support from the Pakistani security establishment, and another set is at war with the Pakistani security establishment.
Understanding that distinction is important to answering tough questions such as whether a surge of additional U.S. forces to Afghanistan could actually further undermine Pakistan's stability.
Note that the Prime Minister of India is very eager to see deep U.S. engagement in Afghanistan and Prime Ministers of India are not known for their deep commitment to Pakistan's stability and well-being. We have tens of thousands of soldiers in Afghanistan, and are set to have tens of thousands more. That naturally tends to lead Americans to focus predominantly on Afghanistan, which is where Americans are fighting and dying. But by any objective standard, our interests are greater in Pakistan. So even if it makes sense for U.S. military engagement to be primarily focused on Afghanistan, it's still important for American policy attention to keep these issues in appropriate perspective.