A Center-Right Nation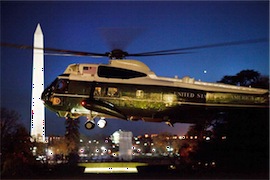 Not that I want to give too much succor to Jon Meacham, but I think the way the Afghanistan debate has played out over the past nine months or so illustrates one important respect in which the United States really is a center-right nation. That's the fact that an obvious subtext to the administration's decision-making on Afghanistan has been a political context in which senior military officers— Petraeus, Mullen, McChrystal, etc.—want a surge of forces in Afghanistan, want $30 billion more per year in spending in Afghanistan, and don't want the availability of those resources to be subjected to any kind of budgetary constraint. And in practice, it's very politically problematic for a president, especially a Democratic president, to get into fights with senior military officials.
And if you think about a comparable situation with the civilian bureaucracy, you'll see that things are very difficult. It's not a serious problem if a Republican president pursues a course that senior career officials at the Environment Protection Agency believe are destroying the planet. Nobody says we need to "support the Civil Rights Division litigators" or "give the social services workers the resources they need to finish the job" of fighting child poverty.
So you have a situation in which not only is the military's budget dramatically larger than any other government agency, but one in which the senior defense department bureaucrats have wildly more social prestige and political influence than do comparable figure in other agencies. The idea that we should "fully resource" the Department of Education's missions of providing decent schooling to all Americans constitutes some kind of nutty fringe idea and the political establishment (correctly, I might add) recognizes that "do whatever teachers want" is not the be-all and end-all of education policy. And you certainly don't see Republican candidates rushing to get "cover" from retired public employees union officials as a way to establish their "credibility" on domestic policy. But in terms of America's engagement with the rest of the world it's more-or-less taken for granted that insofar as the military's senior leadership isn't too badly divided, it should have the predominant voice, and that when military leaders' views are ignored they should be ignored in the direction of more aggressive use of military force.
It's a huge problem, and evidently not one Barack Obama is interesting in taking on.