Is Dubai World too big to fail?
How big of a deal is the Dubai default? Not that big a deal, writes Annie Lowrey. "[E]ven if Dubai World went totally belly up, it wouldn't have anything close to systemic effects. Why? It just isn't big enough." She follows that with a graph comparing the debt on Dubai World's books to the debt Lehman was carrying when it collapsed: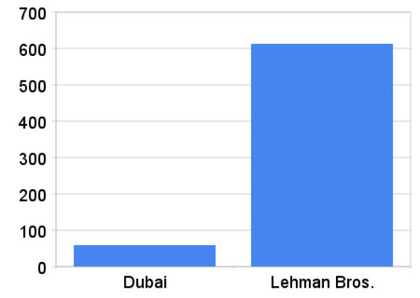 Moreover, Lehman's collapse shocked the system. It was like a mountain had fallen. Dubai World doesn't have the same psychic or financial importance, at least not in this part of the world. For a list of institutions that are that important, however, check out this roll call of systemically important firms that the Financial Stability Board is targeting for special scrutiny.