Appetite for fat cat taxes?
Bored of all this austerity talk? Then take a load off - talk about fairer taxes for a day instead. That seems to be the thinking behind the Liberal Democrats' tax plans, released today.
The party has a long-established fondness for Robin Hood. When it comes to open commitments to squeeze the rich, they've been in front of Labour since at least 2001.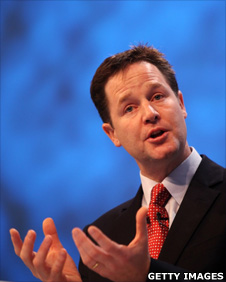 Now we're in a recession which the average voter thinks was largely caused by fat cat city bankers, Nick Clegg and Vince Cable probably think the appetite for fat-cat taxes has risen as well.
They may be right (see A healthy squeeze II). But when it comes to tax fairness, theory and practice can often diverge - as Vince Cable has lately discovered.
The "news" in the announcement is that they have decided the 150,000-180,000 families in the UK living in a house worth between £1m and £2m aren't living in "mansions" after all.
Instead of raising £1.1bn with a 0.5% annual levy on houses worth over £1m, as Vince Cable floated at the party conference, it's going to be a 1% tax on houses worth over £2m, which they claim will raise slightly more - around £1.7bn.
Officials say that these were the households that would have paid most of the tax anyway: according to the most recent Land Registry data, the average value of the 70-80,000 houses worth more than £2m is actually £4.5m.
It's a bit embarrassing to change a policy this radically, barely two months since it was first proposed - especially since our poll suggested it had broad popular support.
You might think it a reflection of our skewed idea of what constitutes "rich" in this country that a tax affecting, at most, 1% of household in the UK was felt to hit too many in the "middle class."
Those who like the Liberal Democrats' progressive rhetoric will be dismayed at the shrinking definition of "rich".
Economists who wanted to see the party - any party - make a start on taxing property more heavily in the UK will likewise be disappointed by the climb-down.
But the Liberal Democrats know their target audience - and their marginal seats - better than those unworldly economists do.
They probably decided that a £1m threshold would be more trouble than it was worth. After all, with potential revenue of £1.1bn (if that) - it wasn't going to be worth very much.
The rest of the proposals are either repeats, or revamps, of the Liberal Democrats' old favourites. I'll say a bit more about those in a later post.
But the bottom line is they plan to raise roughly £17bn in new revenues - nearly all of which they would immediately give away again, to fund a large increase in the personal allowance.
Are they mad, in these straitened times, to be talking about finding ways to "pay for" a tax cut? Shouldn't a serious party be focussed above all on cutting public borrowing?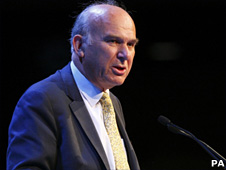 Some will say so. True, Vince Cable has largely been ahead of his counterparts in the other parties in proposing ways to cut the debt (see The political detail.)
But the party won't say how, exactly, it's going to cut borrowing until the end of the year. All we know is that, in keeping with the other main parties, they think it should largely be achieved by squeezing spending.
Apparently, the Liberal Democrats take a different view. They think that if you're going to be asking everyone to sacrifice something on the altar of lower public borrowing in the next parliament, you better reassure them first that the underlying system is fair.
They have polls and a lot of political theory on their side. Not to mention the outrage over bank bonuses and bailouts as evidence for the public mood.
But if there's a lesson in debate over the value of a "mansion", it is that it's lot easier to cut taxes in the name of fairness than to raise them.